"OMNIedge" IoT Service for the Manufacturing Industry
Service Now Available for Ball Screws

*This service is provided only in Japan as of March 2021.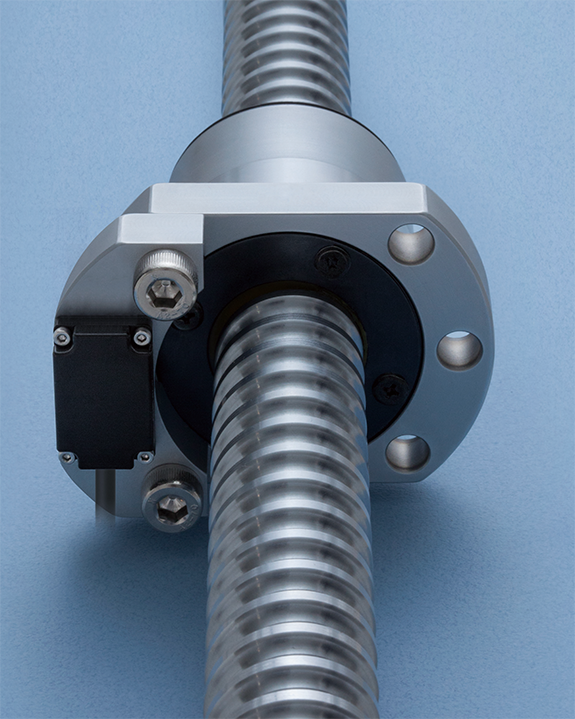 April 15, 2021
THK CO., LTD. (Location: Minato, Tokyo; CEO: Akihiro Teramachi; hereinafter referred to as "THK") has added ball screw applications to "OMNIedge," the IoT service for the manufacturing industry that launched in January 2020, thereby entering phase two of the service roll-out. THK will also conduct a free trial in January 2021 for 30 companies aimed at beginning phase three, which will open the predictive failure detection service to rotary components.
Phase-one sales of the OMNIedge service officially began for LM Guide applications in January 2020. Many users have expressed their praise of and expectations for the service, and THK aims to expand it into a solution that best suits the needs of many customers.
The current phase two of the roll-out adds long-awaited ball screw compatibility to the service. Ball screws are often used in combination with LM Guide products, so there has been a high demand for predictive failure detection and a desire for the early provision of this service.
In the future, THK also intends to expand the applications of OMNIedge to include items such as rotary components and actuators. The expansion of the service will further the management of overall equipment health with predictive failure detection for machine components at its core.
Through this service, THK will contribute to continuous improvements in productivity on the manufacturing floor.
Feature
Visualizes Abnormal Ball Screw Noise and Vibrations
THK has established its proprietary THK SENSING SYSTEM technology, which quantifies and visualizes condition data collected by attaching a sensor to a ball screw. This makes it possible to quantify and detect abnormal ball screw noise and vibrations.
Improves Productivity by Making Maintenance More Efficient
Because OMNIedge quantifies the status of components, using the service allows you to plan equipment maintenance instead of relying on production staff to check the devices and make judgment calls based on their experience and intuition. This allows for more efficient maintenance work unaffected by the experience or skill levels of staff, and it helps reduce management costs for spare parts inventory. In addition, transitioning from time-based maintenance to condition-based maintenance helps optimize component replacement intervals, boost machine operating rates, and improve a factory's production efficiency overall.
Helps Solve Manufacturing Industry Challenges
While the Japanese manufacturing industry is often forced to rely on the intuition of experienced staff when it comes to the maintenance of production equipment, labor shortages and the loss of skilled staff to retirement have made skill transmission a critical challenge in recent years. THK offers OMNIedge as a package solution for this issue that can shoulder the burden of one aspect of maintenance work. Manufacturing companies have faced significant hurdles in adopting the IoT, but the nature of this service makes it easy to implement for a reasonable price.
OMNIedge: An IoT Service for the Manufacturing Industry
Service Overview
OMNIedge is a system that diagnoses the status of a machine component and performs predictive failure detection. Using the THK SENSING SYSTEM, a sensor attached to the component collects data, which is then quantified and analyzed by an original algorithm and transmitted through a secure network. The package comes with a sensor, amplifier, and communication device, and communication fees are included, which means the service is simple and secure, with zero initial costs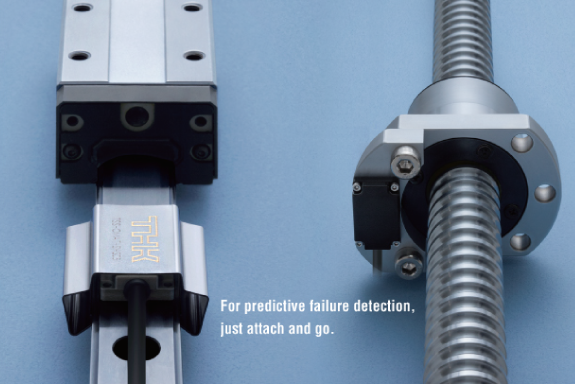 Usage Fee
Starts at 8,000 yen/month for 1 device (with a 2-year contract)
OMNIedge Website
https://www.thk.com/omniedge/en
OMNIedge Overview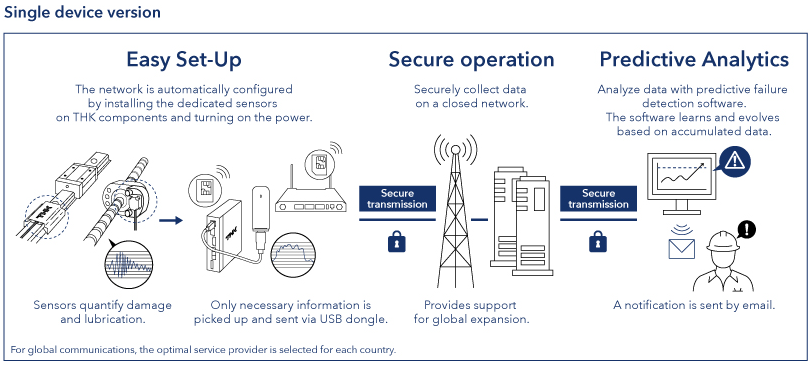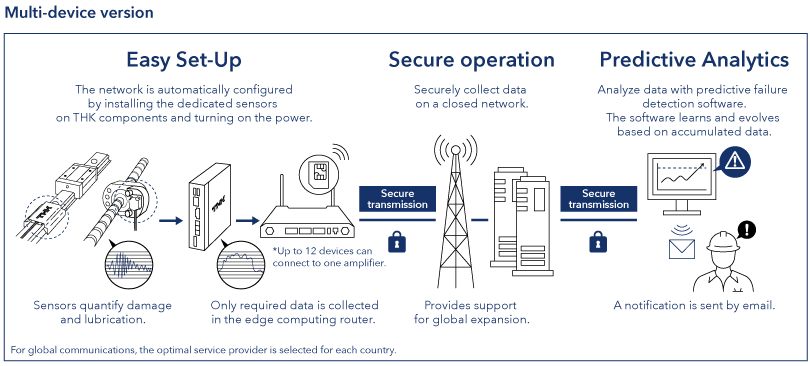 Now Seeking Participants for Free OMNIedge Phase Three Rotary Component Trial
Overview

THK is planning to further expand the applications of the OMNIedge service to include rotary components. Before fully launching this new service, THK will conduct a free trial for 30 companies who want to try it out. THK is looking for business partners who are excited about OMNIedge and want to assist in this endeavor.

Applicable Components
Rotary components of pumps, motors, conveyors, fans, etc
Sensor Used
Wireless vibration sensor (available with or without an internal battery)
 
With an internal battery Without an internal battery
Collectible Data
Vibrations, temperature, noise
Application Period
Applications opened Monday, November 16, 2020. They will close once the participants have been selected.*


* Thirty companies will be chosen to participate based on a careful consideration of the applications.

How to Apply
Please fill in and submit the required fields on the website below to apply.
https://tech.thk.com/contact2/inquiry.php?r=r&l=en_omniedge