The "OMNIedge" IoT Service for the Manufacturing Industry
Now Connects with FIELD system: Bolstering the Service with Industrial Platform Compatibility

*This service is provided only in Japan as of March 2021.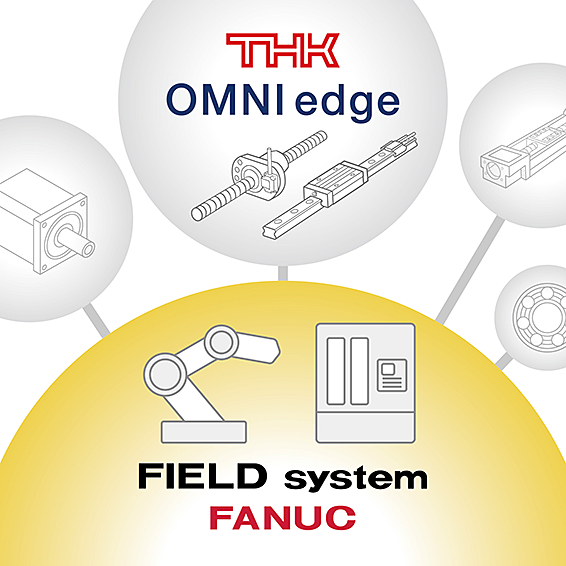 April 29, 2021
THK CO., LTD. (Location: Minato, Tokyo; CEO: Akihiro Teramachi; hereinafter referred to as "THK") is further strengthening and expanding the functionality of its "OMNIedge" IoT service for the manufacturing industry, which launched in January 2020. Beginning April 2021, the service will be able to connect to FANUC CORPORATION's "FIELD system" open industrial platform.
OMNIedge is a system that uses a communications network to visualize the status of machine components and perform predictive failure detection. Service began for LM Guide applications in January 2020 and has since expanded to ball screws. THK is also conducting a free trial to expand the service to rotary components, an area where demand is expected to increase. The company also began offering Global SIM compatibility this February to further broaden the scope of the service.
THK's mainstay LM Guide products and ball screws have been widely adopted in machine tools and industrial robots that require high-precision positioning. Users have expressed a greater need to visualize the status of linear components critical to achieving precision and to be able to predict when those parts will fail.
The version of OMNIedge that is already available can achieve predictive failure detection on its own, but as the first step toward expanding compatibility with industrial platforms, the service will now be able to connect with FIELD system, which is used for machines that require high-precision positioning. For the next phase, THK is looking to develop an original app that will heighten added value by utilizing FIELD system Apps, starting with the feature of monitoring components with OMNIedge installed. The company is also working to make the OMNIedge service and features available in their current format on other industrial platforms.
THK will continue to incorporate feedback from users in order to expand the service in a way that best suits user needs and will help their manufacturing operations achieve continuous productivity improvements.
Features
Simultaneous Monitoring of Up to 90 Machine Components and Devices
Many customers who operate multiple devices such as CNC machine tools and robot transfer axes with robot controllers have said they want to manage those devices collectively with a unified platform when they implement the IoT. With FIELD system's FIELD BASE Pro hardware, 30 OMNIedge amplifiers can be connected to permit simultaneous monitoring of up to 90 machine components and devices (30 amplifiers × 3 sensors). In addition, FIELD BASE Pro offers applications developed by over 500 partner companies, which allows users to link devices and make them work together to optimize manufacturing operations.


Superior Connectivity with Machine Tools and Robot Transfer Axes
OMNIedge offers outstanding, comprehensive connectivity that includes CNC devices and robot controllers, and the system works well in combination with actual machine operations. For instance, OMNIedge data can be collected using the control signals of CNC devices and robot controllers, allowing users to utilize data in a way that will boost productivity.


Same OMNIedge Functionality, Same User Friendlines
This service implements the same visibility features for LM Guide and ball screw products that are currently available with OMNIedge, making it simple and intuitive to use and monitor data.
OMNIedge: An IoT Service for the Manufacturing Industry
Service Overview
OMNIedge is a system that diagnoses the status of a machine component and performs predictive failure detection. Using the THK SENSING SYSTEM, a sensor attached to the component collects data, which is then quantified and analyzed by an original algorithm and transmitted through a secure network. The package comes with a sensor, amplifier, and communication device, and communication fees are included, which means the service is simple and secure, with zero initial costs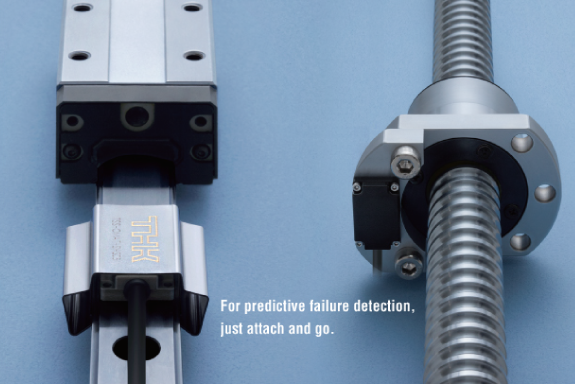 Usage Fee
Starts at 8,000 yen/month for 1 device (with a 2-year contract)
OMNIedge Website
https://www.thk.com/omniedge/en
Example Configuration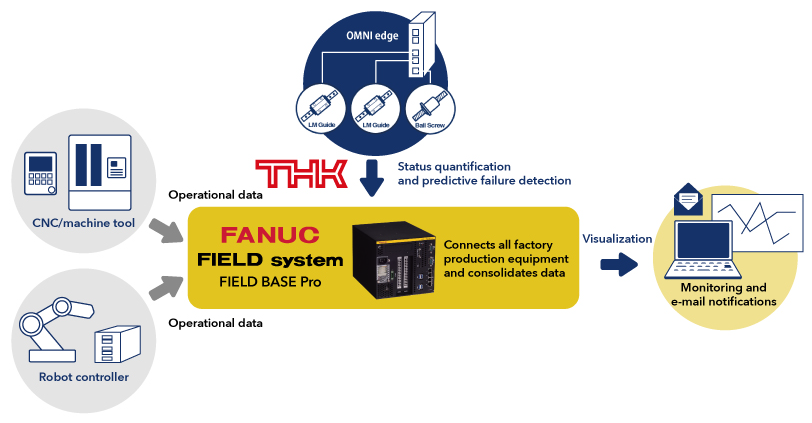 Contents are subject to change without notice for the purpose of improvement.
FIELD system is a registered trademark of FANUC CORPORATION.
OMNIedge is a registered trademark of THK CO., LTD.
Contents are subject to change without notice.
OMNIedge is a registered trademark of THK CO., LTD.