The "OMNIedge" IoT Service for the Manufacturing Industry Goes Global: A New Service Compatible with Global SIM

*This service is provided only in Japan as of March 2021.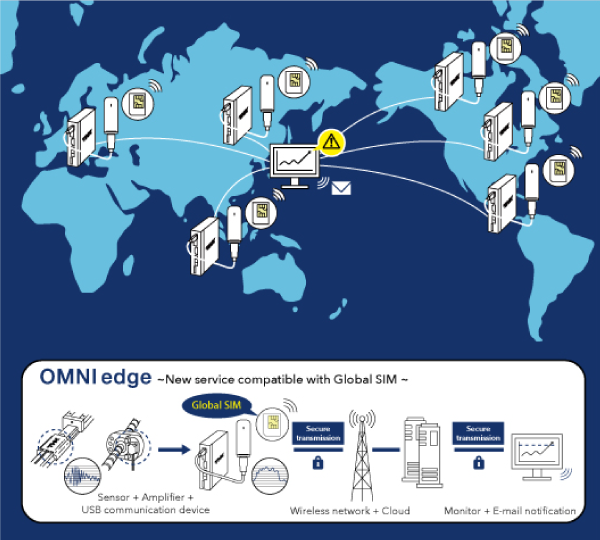 April 22, 2021
THK CO., LTD. (Location: Minato, Tokyo; CEO: Akihiro Teramachi; hereinafter referred to as "THK") is expanding the scope of service for its "OMNIedge" IoT service for the manufacturing industry by launching Global SIM compatibility as of February 3, 2021.
OMNIedge is a system that uses a communications network to visualize the status of machine components and perform predictive failure detection. Phase one of the service launched in January 2020 for LM Guide applications. Phase two added ball screw compatibility, and a free phase three trial is currently being conducted for rotary components, an area where demand is expected to increase.
Customers who have installed OMNIedge include automotive component, food, and raw material manufacturers, and over half possess factories overseas. All of those customers want the same thing out of OMNIedge: the ability to diagnose the status of components and predict machine failures in both their domestic and international factories. In addition, the coronavirus pandemic has made it difficult to travel abroad and check the facility in person, so many customers have expressed the desire to be able to check things remotely. When the international facilities are running the same production lines as the original location, these customers want to standardize to a high level of equipment maintenance across countries without having to travel. To address that need, THK has launched Global SIM compatibility for OMNIedge using international communications networks.
THK recommends its Global SIM-compatible service for every customer who wants to use the same IoT platform domestically and abroad in order to visualize component data. This service will initially be available in the United States, Thailand, Indonesia, and China, but future expansions will bring the service to many other regions where Japanese companies have a large presence, such as Mexico and Southeast Asia.
THK will continue to incorporate feedback from users in order to expand the service in a way that best suits user needs and will help their manufacturing operations achieve continuous productivity improvements.
Features
Overseas Monitoring of Equipment Maintenance
You can visualize the status of machine components installed in an overseas factory, including LM Guide and ball screw products, without having to travel. Monitoring international factories from one location will give you centralized control over maintenance management across all production lines. Keeping track of domestic and international factories on the same screen also allows you to compare the status of different devices.



Simple Pricing
The service is available for a monthly fee of 10,000 yen* for 1 device in each country, with no need to change communications carriers or perform any complex set-ups at the location.

* Loaning fees for devices such as sensors and amps, communications fees, and application usage fees are all included.
* Export costs to the overseas location are the responsibility of the customer.

Application Available in Three Languages
To enable local monitoring, the application can be switched between three languages: Japanese, English, and Chinese (Simplified).
OMNIedge: An IoT Service for the Manufacturing Industry
Service Overview
OMNIedge is a system that diagnoses the status of a machine component and performs predictive failure detection. Using the THK SENSING SYSTEM, a sensor attached to the component collects data, which is then quantified and analyzed by an original algorithm and transmitted through a secure network. The package comes with a sensor, amplifier, and communication device, and communication fees are included, which means the service is simple and secure, with zero initial costs

Usage Fee
Starts at 8,000 yen/month for 1 device (with a 2-year contract)
Available Countries
Phase one: United States, Thailand, Indonesia, China
Start of Shipping
Starts at the end of February 2021
OMNIedge Website
https://www.thk.com/omniedge/en
OMNIedge Overview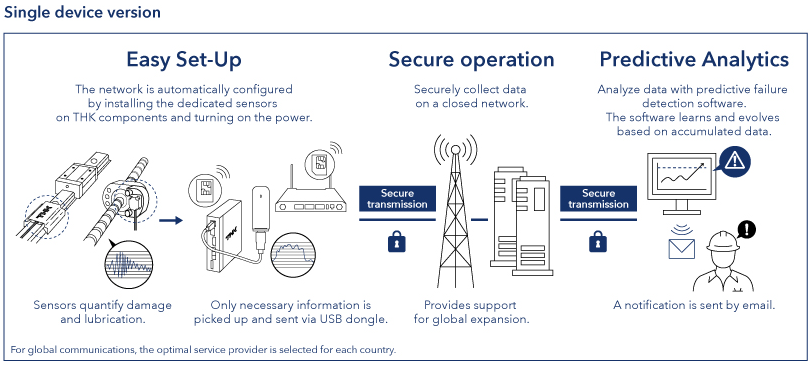 Contents are subject to change without notice.
OMNIedge is a registered trademark of THK CO., LTD.