July 29,2022
OMNIedge, an IoT Service for Manufacturing, Now Supports Private Cloud: High Security, Availability, and Support for Multiple Devices at a Reasonable Price
THK has begun supporting private cloud for its "OMNIedge" IoT service for the manufacturing industry.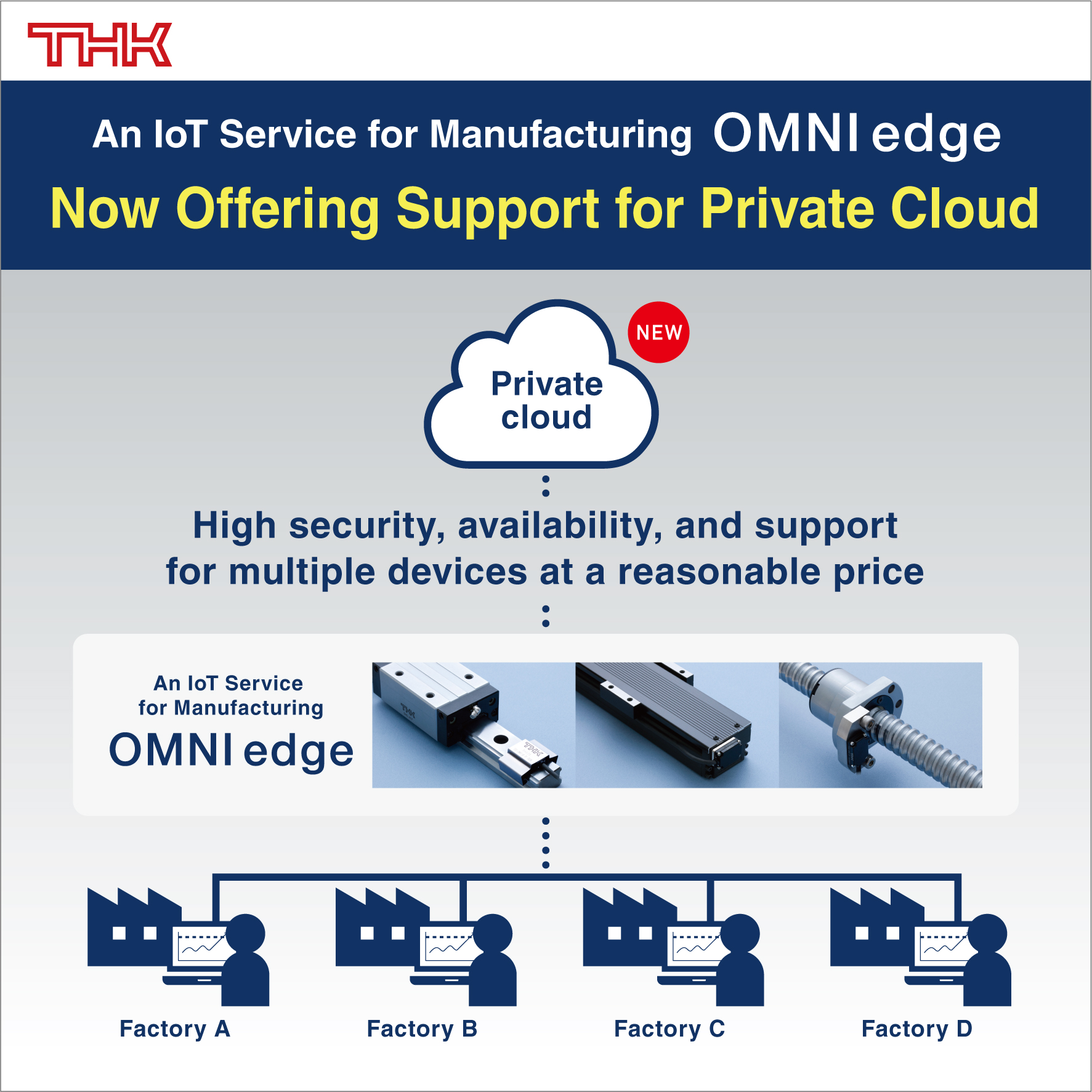 OMNIedge is an IoT service created by THK that is the first to quantify the status of machine components and perform predictive failure detection by fitting a sensor to the components of equipment running on production floors. The service began with linear motion components such as the LM Guide, ball screws, and actuators, with the lineup then expanding to include rotary components such as motors and pumps. Now, by offering support for dedicated private clouds, THK is able to offer an environment that allows for the use of multiple devices with an even more robust, high level of security and scalability at a reasonable price.
While demands for security remain high when customers begin their official implementation of IoT services, creating a system that meets internal needs is not a simple task, and the financial burden is not insignificant. To assist with this, in addition to solutions for implementation, THK is expanding support for dedicated private clouds that provide even more robust security so that users can fully enjoy the benefits of OMNIedge. Furthermore, as part of the scalability that can only be achieved with dedicated servers, THK will also be developing functions that enable the simultaneous collection of similar IoT data.
Customers that have already installed OMNIedge are likely to install multiple units on multiple production lines in the future. However, in that case, in addition to needing a more robust and higher level of security, issues such as whether that could affect existing internal networks—and whether installation and set-up will go smoothly—are a constant concern.
To answer the demand from customers that want to expand to multiple units while maintaining a robust level of high security and take advantage of the two bonus features of the OMNIedge cloud service that add peace of mind, THK has begun support for private clouds. In addition to drastically reducing the amount of labor hours needed for customers to configure the environment, annual costs are kept as low as possible while enabling long-term usage that takes future scalability into consideration.
THK will continue to incorporate feedback from users in order to expand the service in a way that best suits user needs and will help their manufacturing operations achieve continuous productivity improvements.
Features
More robust security and simple installation and setup
Utilizing a dedicated cloud server enables a secure environment in which only designated users are allowed access via a closed network. Furthermore, installation is quick because data is transferred wirelessly via a dedicated SIM. There are no troublesome LAN cables, and no in-building construction work is needed.
Utilize two bonus features that add peace of mind*
Because you can utilize the no-wait manufacturing ticket and IoT risk coverage bonus features that are only possible with cloud service, you can fully enjoy the benefits of OMNIedge.
Long-term usage with minimal annual costs while keeping scalability in mind
Keeping in mind the kind of scalability only achievable with dedicated servers, long-term usage at a reasonable price range is possible.
OMNIedge: An IoT Service for Manufacturing
Service Overview
OMNIedge is an IoT service that diagnoses the status of a machine component and performs predictive failure detection. Using the THK SENSING SYSTEM, a sensor attached to the component collects data, which is then quantified and analyzed by an original algorithm and transmitted through a secure network. The package combines the sensor and other hardware with a communication device, and communication fees are included, which makes the service simple, secure, and available for a reasonable price.
The lineup has been expanding mainly around linear motion products such as the LM Guide, ball screws, and LM Guide actuators.

Start of Shipping
July 1,2022
OMNIedge Website
https://www.thk.com/omniedge/en
OMNIedge Private Cloud Configuration

Benefits from Installation and Utilization of OMNIedge Private Cloud (LTE Communications)
| Benefits at installation | Benefits at utilization |
| --- | --- |
| No burden on the customer's existing network at time of installation | Guaranteed high security and availability |
| No hassle from LAN (wired) cables in the factory | High customizability when scaling |
| Excellent scalability not only at POC (proof of concept), but also at time of full-scale installation | Utilize two bonus features that bring peace of mind: the no-wait manufacturing ticket and IoT risk coverage |
| An all-in-one solution that can be used immediately for data collection, analysis, and results and feedback | Minimize internal operating costs for server maintenance and security costs |
Peace of Mind Added with Two Bonus Features
No-wait manufacturing ticket

This bonus feature allows OMNIedge customers to arrange the priority, "no-wait" manufacture of a replacement part at a THK factory when the sensor on their machine's LM Guide, ball screw, or other component detects unusual or poor conditions and the part needs to be replaced. If OMNIedge is installed on the equipment, the no-wait manufacturing ticket eliminates worries about shipping dates and ensures that a replacement part can be arranged.

IoT risk coverage

Only in the event that OMNIedge's predictive failure detection does not function properly and the component (LM Guide, ball screw, or actuator) to which the sensor is installed becomes damaged, insurance provided through Tokio Marine & Nichido will cover the cost of the component where the problem originated and the labor costs for replacing the part (up to a maximum of ¥1 million). This bonus feature is automatically included when signing up for OMNIedge, so no special application is required.
Coming Soon
Support for the various systems needed for the IoT

Future plans include adding devices for data collection, expanding edge servers, and connecting and adding production management and equipment monitoring applications.

Support for local 5G

Support is planned for local 5G to assist in the creation of flexible IoT networks that are capable of running a wide range of machines and systems on a large scale safely and with minimal interference from network outages.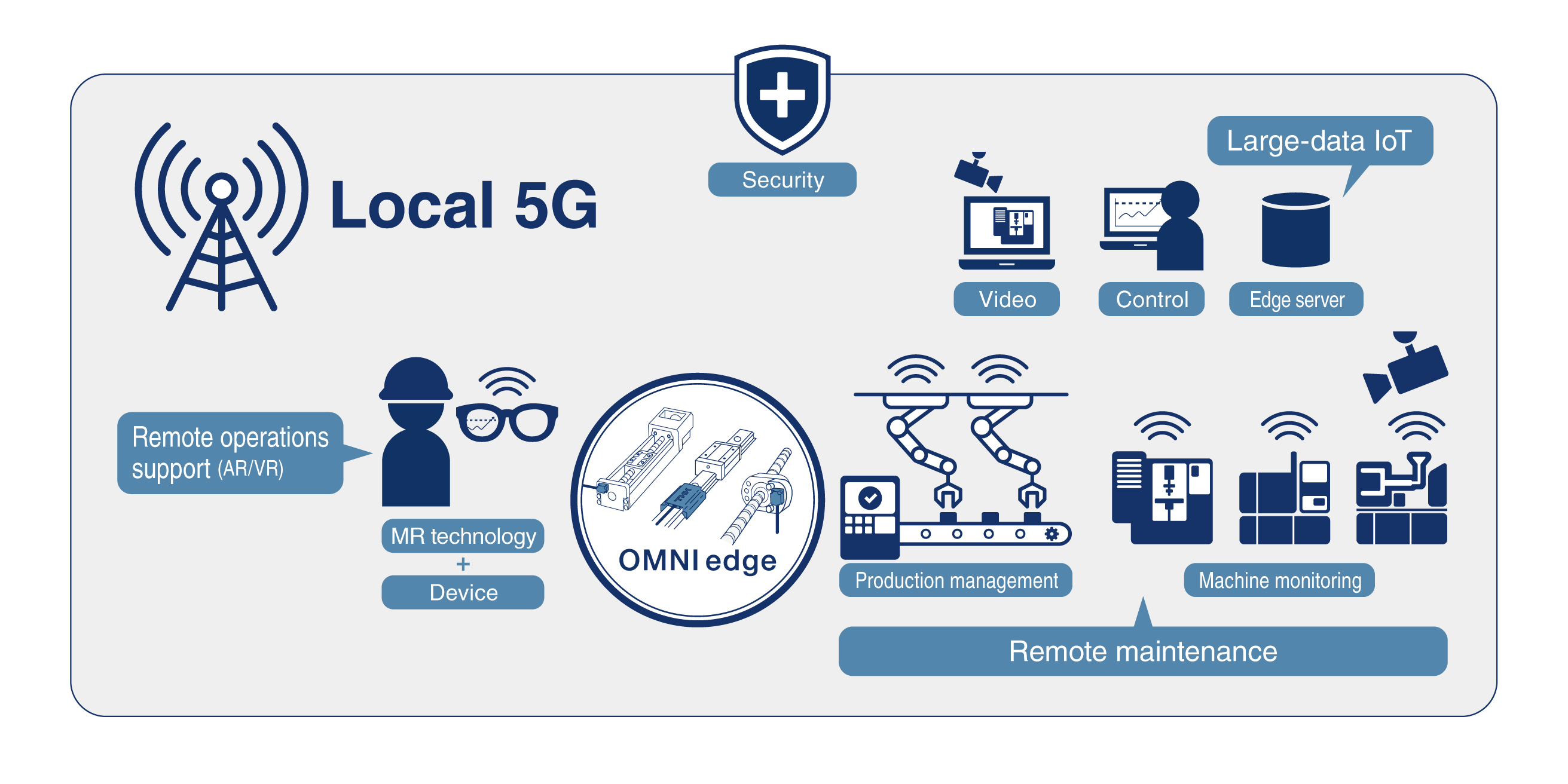 Future Developments: Support for the various systems needed for the IoT, support for local 5G
Contents are subject to change without notice for the purpose of improvement.
OMNIedge is a registered trademark of THK CO., LTD.