CSR Report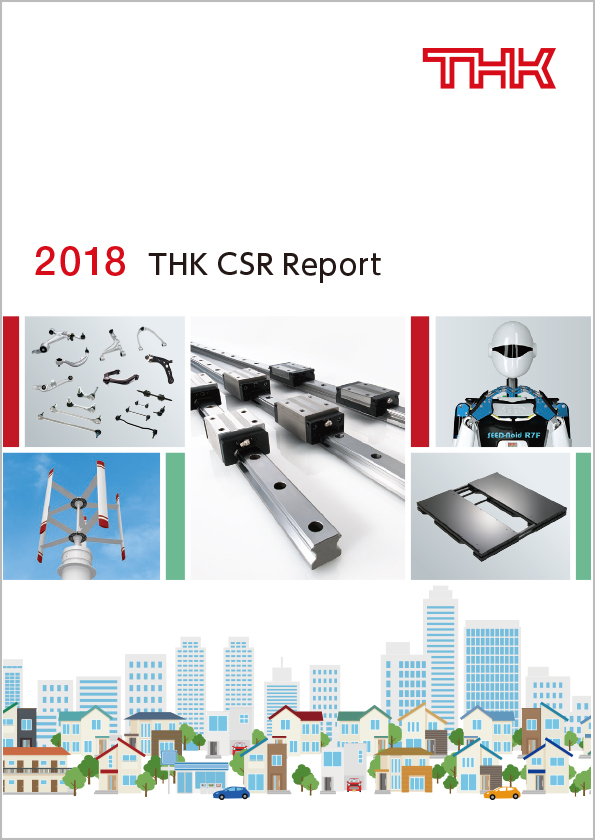 THK Group has followed up with the THK CSR Report 2018, our seventh report. This provides a summary of the Group's activities and efforts in the area of corporate social responsibility.
This report is a communicative tool that will enable us to obtain vital feedback and further improve the quality of THK's business activities.
THK CSR Report 2018
Download the entire report (5,670KB pdf) (English)
Note: We have also divided the contents of this file into smaller files, which can be downloaded more quickly. Please refer to the list below.
Let us know what you thought of the THK CSR Report 2018.
Index
Contents
THK's CSR Policy/Contents
(PDF 442KB) (English)
THK's CSR Policy
Contents
Message from the CEO
(PDF 131KB) (English)
Fulfilling Our Responsibility to Provide Satisfying Products
Company Overview
(PDF 615KB) (English)
Company Overview
Special Features/THK's Expertise and Core Technology Combine to Create Products with Many Applications
(PDF 1,830KB) (English)
TOSHO Inc.
THK's LM Guide Improves the Repeat Accuracy and Speed of Dispensing Medicine

Yamaguchi Prefectural Industrial Technology Institute
THK's Technology Aids Local Manufacturing Growth

JyouSenji, Honmon Butsuryu Shu Temple
THK's Seismic Isolation System Protects the Statue of Honmon Butsuryu Shu's Founder Enshrined at JyouSenji

Akita University Hospital
Safeguarding Medical Information During Disasters

NS Solutions Corporation
The

SEED Noid

Makes High-Speed 5G Robots a Reality

SECOM INDUSTRIES CO., LTD.
Overall Productivity Quintupled with the Installation of NEXTAGE®
Management Structure
(PDF 279KB) (English)

Corporate Governance
Internal Controls, Intellectual Property, and Information Security
Compliance and Internal Auditing
BCP
Involvement in Society
(PDF 1,071KB) (English)

Together with Our Suppliers
Together with Our Shareholders
Quality Assurance
Health and Safety
Supporting Development (Work-Life Balance)
Local Communities

Harmony with the Environment
(PDF 967KB) (English)

Promoting Environmental Management


Environmental Targets, Environmental Accounting, and Environmental Impact Overview
Conserving Energy and Preventing Global Warming
Conserving Resources and Achieving Zero Emissions
Managing Hazardous Materials
Green Distribution
Third Party Opinion
(PDF 89KB) (English)
Masahiro Sakane
Councilor, Komatsu Ltd.
Editor's Note
(PDF 61KB) (English)
Editor's Note
THK CSR Report Back Number