Message from CEO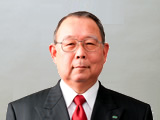 Striving for Greater Corporate Value
As a company focused on creativity and development, THK uses original technology and inventive ideas to provide the world with unique new mechanisms. This approach, supported by continuous research and development, constitutes THK's operating base. Our corporate philosophy is "providing innovative products to the world and generating new trends to contribute to creation of an affluent society." THK will continue its ongoing pursuit of innovation, thereby contributing to the progress of all its stakeholders.
Having set a growth milestone of 300 billion yen in consolidated sales, THK is expanding the scope of its business activities through full-scale globalization and the development of new business areas.
Full-scale globalization has entailed the construction of plants and offices in four designated zones: Japan, the Americas, Europe, and Asia. In keeping with the notion that the site of demand is the best place for production, we have rapidly established production bases overseas. We are also adding more sales locations. In recent years we have improved our sales networks in locations such as the Chinese market, where future growth is anticipated, enabling us to quickly and accurately provide products wherever they are needed.
The development of new business areas involves expanding our business opportunities into emerging new fields. The FAI Division, which deals with automobile components, is accelerating the development of automobile-related electronics devices. Meanwhile, seismic isolation devices have become increasingly recognized as an effective countermeasure against earthquakes. Amid the rising public interest, THK's ACE Division, which handles our seismic-isolation devices, is actively working to increase demand in the area of single-family housing. In addition, the IMT Division is working on expanding our unit products and devices business, as well as our electric actuator business where future market growth is projected.
After the fall of Lehman Brothers, it became clear that economic growth in developing countries, and in particular China, would be the driving force in the world economy. I believe that demand for machinery in these regions is set to grow substantially in the coming years. Also, because CO2 reductions are now essential due to moves to protect the global environment gathering momentum, progress is expected to be made with electrification in a variety of fields to increase energy efficiency. The increase in demand for machinery in developing countries and progress in electrification will greatly expand demand for our products.
THK will accelerate full-scale globalization and the development of new business areas to turn these new developments into growth, while seeking to further enhance profitability and striving to increase our corporate value.
Akihiro Teramachi
President and CEO
THK CO., LTD.
---
Management Principles