Cam Follower
The Cam Follower is a compact bearing with a high-rigidity shaft and a built-in needle bearing. Most suitable as a guide roller for cam mechanisms and linear motion of automated machines and dedicated machines.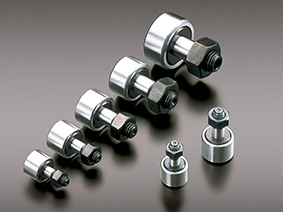 ---
Models
Model CF
This model is a low-price Cam Follower having a driver groove or hexagon socket in the stud head. The all-stainless steel type (symbol M) is optimal for clean room applications since it does not develop rust from external atmosphere and generates little dust.
Details / Product lineup
Model CFT
Basically the same as the popular type Cam Follower, this model is provided with tapped holes for piping on the stud head and the thread. It is optimal for locations where an integrated piping system for greasing is required.
Model CFH
This model can be installed in the same mounting hole as that of the popular type Cam Follower. Since the mounting shaft of the stud and the stud head are eccentric by 0.25 mm to 1.0 mm, the position of this model can easily be adjusted simply by turning the stud. Thus, it is a compact, highly accurate eccentric cam follower with an integral structure.
Model CFN
Based on the popular type Cam Follower, this model is incorporated with thrust load balls. It is capable of receiving an axial load generated by a mounting error.
Model CFS
The outside diameter of its outer ring is very small relative to the stud diameter, so this cam follower can accommodate highly compact designs.
Model CF-SFU
To simplify installation, a flat-head slot has been machined into the stud so that it can be secured with a screw.This is ideal for units where there is no space to fasten the stud.
.

Specifications of products,Calculate life span,Download 2D,3D CAD data.etc. You can order any of a variety of catalogues, also view in PDF format in Technical Support .