Miniature LM Guide RSX available with short and long blocks as well as a version for high temperatures
THK is expanding its Miniature LM Guide series RSX downwards with a new size RSX5 and long LM blocks for sizes RSX7 to RSX15. In addition, the series is now available in the RSX-M1 version for high temperatures.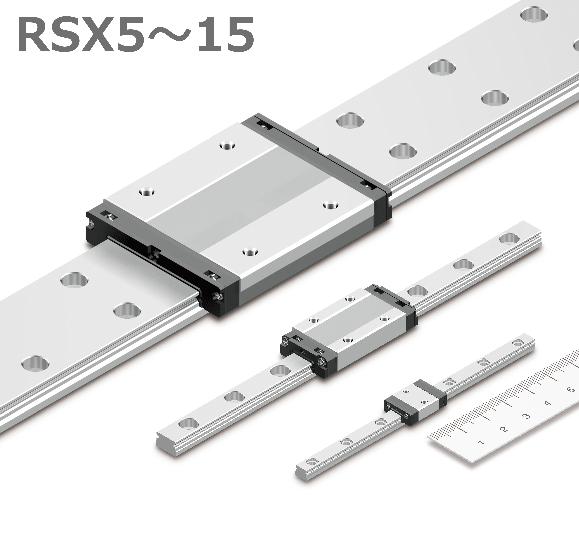 Miniature LM Guide Model RSX with new size
RSX5
Download RSX
Catalog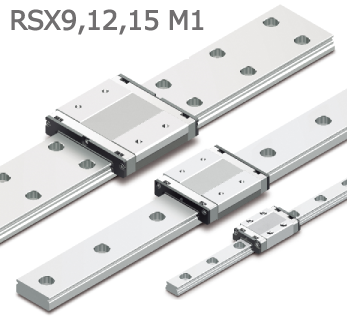 Miniature LM Guide RSX-M1 for use under high temperatures
Download RSX-M1
Catalog
Ultra-compact design
The Model RSX uses two raceways and has more compact outer dimensions than models with four raceways. Despite being ultra-compact, its ball contact structure is capable of receiving loads in all directions, and can be used individually in locations with space limitations or where moments are applied. Thus even with moment loads, the RSX miniature guide can be used with just one rail.
Balls are prevented from falling out
For easy assembly, the RSX model has a retaining wire that holds the balls in the block in the event that the block needs to be pulled off the rail during assembly.
Series RSX-M1 for use under high temperatures
The Miniature LM Guide series RSX-M1 can be used at operating temperatures up to 150°C thanks to THK's unique technology in material and thermal treatment. For this purpose, this type uses a high-temperature lubricant, which shows only slight lubricant-related fluctuations in the running resistance when the temperature changes from low to high ranges.
Various types and sizes available
The RSX series is available in sizes RSX 5 to RSX 15 and the RSX-M1 series in sizes RSX 9M1 to RSX 15M1.