Cam Follower / Track Roller
The cam follower or track roller is a compact and highly rigid bearing with a shaft. It contains needle rollers and is used as a guide roller for cam mechanisms or straight motion.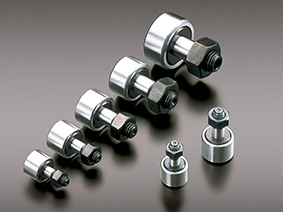 ---
Models
Model CF
The most common version of the cam follower or track roller has a slot in the stud head, version A has a hexagon socket. A highly rust-resistant stainless steel version (symbol M) is also available.
Details / Product lineup
Model CFT
Similar to our other models, this type of Cam Follower is provided with tapped holes for fixing pipe work on the stud head and the thread. to facilitate greasing from a centralised system.
Model CFH

Similar to other models, this type of Cam Follower can be mounted in the same housing. However the stub shaft is eccentric which provides easy adjustment at mounting by simply turning the stud.

Model CFN
Also similar to other models, this type of Cam Follower incorporates thrust ball bearings. It is therefore capable of accomadating thrust load normally associated from mounting errors.
Model CFS
The outside diameter of its outer ring is very small relative to the stud diameter, so this cam follower can accommodate highly compact designs.
Model CF-SFU
To simplify installation, a flat-head slot has been machined into the stud so that it can be secured with a screw.This is ideal for units where there is no space to fasten the stud.