Transport systems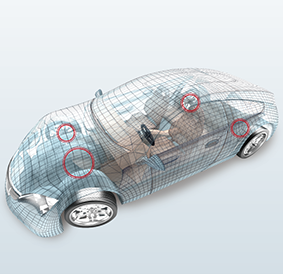 THK's products are widely used on critical parts of railway cars, automobiles and other vehicles. In particular, in the automobile manufacturing process, THK's products are used in almost all types of equipment, robots, processing machines, and assembling machines.
---
Single-seater helicopters
In the smallest single-seater helicopters in the world, THK's R Guides are used in the propeller angle-moving shaft. Changing the propeller angle allows the craft to rotate and change direction.
Platform doors
Caged Ball LM Guides and Cam Followers are used in the platform doors that protect people from accidentally falling onto the railroad tracks. THK's products, with their high durability and quiet operation, hold these overhung platform doors securely.
Electric 4-wheeled scooters
THK's Link Balls are used in the linkage mechanisms of front and rear steering systems of electric 4-wheeled scooters. Against the background of an aging society, the demand for these electric 4-wheeled scooters for the aged is increasing. Using the Link Balls lets the mechanism function without clearance or play, so that the cars can be driven safely.
Products used