SE-CO 1.3 AC Translating Technical Details Into Business Impact: 5 Essential KPIs
There's More to Supply Chain than Just Parts for Your Products

Your Supply Chain is Only as Strong as Its Weakest Supplier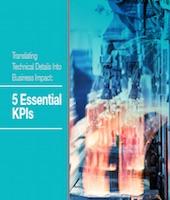 Innovations involving high-tech production technology and the "Internet of Things" have allowed manufacturers to stay competitive in the face of globalization, rising wages, valatile materials prices, and skilled-worker shortages. Yet many executives remain cautions about investing in new equipment, putting pressure on engineers and managers to build a clear business case for the allocation of funds and resources.
In Translating Techincal Details into Business Impact: 5 Essential KPIs, you will learn:
Which KPIs to include in the case for investment in new equipment.
Benchmarks to measure the efficiency of your operations.
How to present technical improvement in large scale business terms.
Engineering and production leaders are often the first to recognize the need for new equipment but often face a communication disconnect with business minded executives. Bridge that gap to ensure your organization remains competitive.