There's more to Supply Chain than Just Parts for Your Products

Your Supply Chain is Only as Strong as Its Weakest Supplier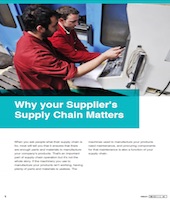 A strong supply chain is the foundation of any manufacturing business, yet many organizations overlook the importance of their supplier's supply chain. If a business partner is unable to provide parts for maintenance in a timely and reliable fashion, they can put your entire operation at risk.
In Why Your Supplier's Supply Chain Matters, you will learn:
How to evaluate your supplier's operational strengths
How to develop stronger relationships with suppliers
Warning signs of a Provider with a weak supply chain
Be confident in your organizaion's ability to depend on your business partners by doing your diligence up front.