How to Work with Suppliers to Improve Service

The key to Creating a True Partnership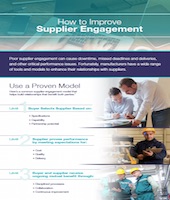 When key suppliers miss their deadlines, a lack of materials could cause a manufacturer to experience a decline in cash flow, missed shipments to customers, and a drop in quality due to subpar replacement materials. If supplier relationships are sourcing, it is imperative to act quickly to improve the situation and avoid disruption in operations.

In How to Improve Supplier Engagement, you will learn:
How to assess existing supplier relationships.

How to collaborate with suppliers to advance long term strategic goals.

How to refine ordering methods for enhanced transparency.
You want to be your supplier's partner, not just a customer. Read more to find out how.