Shaping the Future of Service Robotics

Sweeping the Service Robot Revolution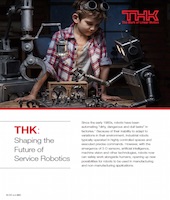 Robots emerged in the early 1960s as a way to automate the monotonous and dangerous tasks in factories around the world. As time passed and new technologies emerged, these robots have taken a place outside of the industrial market and alongside humans in manufacturing and non-manufacturing applications alike.

Our Case Study THK: Shaping the Future of Service Robotics shares how the robot revolution is impacting everyday life and creating new opportunities for robotics manufacturers.
Learn the factors that contributed to the evolution of robotics technologies including:
Rising demand for non-manufacturing robots

Emergence of 3-D sensors and other technologies

Wider awareness and acceptance of robotics
Discover how robots in your everyday life may not be as fictional as they sound.