Are Your Vendors Affecting Your Bottom Line?

Improving Negotiations to Heighten the Value in Your Product Offerings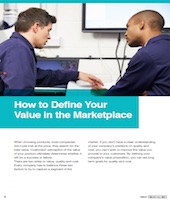 With ROI as a driving factor for most businesses, how can you ensure that you are maximizing your vendor relationships and ending up with the most value for your organization?

In How to Define Your Value in the Marketplace you will learn the importance of selecting the right solution versus a part with the lowest sticker price, and how to select a vendor that aligns with your brand standards. Topics include:
Defining quality both internally and externally for your organization

Optimizing ROI opportunities and determining long term goals

Starting vendor relationships on the right foot and learning how to negotiate effectively
Discover the impact that a well-negotiated vendor relationship can have on your bottom line.