Understanding the Impact of Timelines on Your Business

How to Work With Suppliers to Ensure Timely Deliveries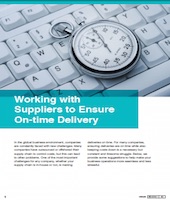 For global business environments, outsourcing or offshoring supply chains are a common tactic used for keeping costs down. While this can be effective initially, using this approach can often present a new challenge of how to keep deliveries on time while keeping costs reasonable.
In Working with Suppliers to Ensure On-Time Delivery,
you will learn:
・The importance of your supplier vendor list
・How to identify your key pain points and how to prevent them
・How to strengthen your vendor relationships
Working with the right partner is vital to a seamless operation. Read more to find out how to maximize your strategic relationships.