Case Study: Sowing the Seed for Growth in the Medical Robot Market

Seed Solutions and THK: Driving Progress in Medical Robotics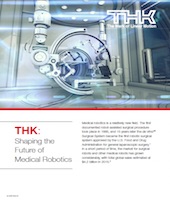 Medical robotics is a relatively new field. In a short period of time, the market for surgical robots and other medical robots has grown considerably with organizations like Seed Solutions paving the way with innovative advances.
Our Case Study: Sowing the Seed for Growth in the Medical Robot Market shares the success story of how Seed Solutions leveraged THK's technology and expertise to develop solutions that meet the growing demand for medical robots.
Learn how innovation in components and software has made it possible to create compact yet high-powered intelligent robotic systems for a variety of medical applications.
Discover the next wave of advanced medical robots.