CSR Report 2013/2014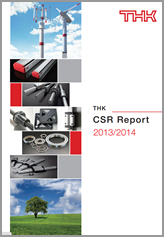 THK Group has followed up with the THK CSR Report 2013/2014, our seventh report. This provides a summary of the Group's activities and efforts in the area of corporate social responsibility.
This report is a communicative tool that will enable us to obtain vital feedback and further improve the quality of THK's business activities.
THK CSR Report 2013/2014
Download the entire report (5,810KB pdf)
Note: We have also divided the contents of this file into smaller files, which can be downloaded more quickly. Please refer to the list below.
Index
Contents
Introduction
(PDF 657KB)(English)
Introduction
Contents
Message from the top
(PDF 459KB)(English)

Continuing to contribute

through our business pursuit

The THK Group
(PDF 1,880KB)(English)

Profile
The THK Group:Major locations
Feature section
(PDF 1,030KB)(English)


Creating the future with THK technology

Bringing dreams to life: THK robot technology

Leading safer lives with THK technology

Reducing the impact of a natural disaster

Management system
(PDF 627KB)(English)

Corporate governance
Compliance
Risk management and information security
Involvement in society
(PDF 1,270KB)(English)


Together with our customers

Together with our shareholders and investors

Together with our employees

Harmony with the environment
(PDF 1,030KB)(English)


Environmental management

Environmental management system

Environmental impact: The big picture

Conservation of resources and zero emissions

Conserving energy and combating global warming

Management of hazardous substances

Green distribution

Third-party opinion
(PDF 420KB)(English)

Hidenori Shinno

Professor Dr,-Eng, and Deputy Director, Precision and Intelligence Laboratory

TOKYO INSTITUTE OF TECHNOLOGY