Download
For single axis, Low-capacity servo driver controller
Features
Ready to use, simplified setup.
Simple Operation
Use PC setup tool D-Step or digital operator TDO to access many useful functions.
Functions
- Selectable function modes
(64-position, external unit input instruction, 256-position, 512-position, Solenoid mode 1, and Solenoid mode 2)
- Step data count: Up to 512 (depending on function mode)
- Alarm history: Up to 50 (including power ON history)
- Switching between Auto/Manual, brake release switch
- Selectable control methods (positioning or pressing)
Digital Operator TDO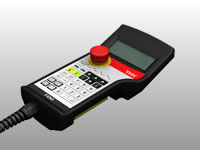 Features
Simple, quick operations and settings of TLC and THC are possible without using a PC.
Simple Operation
Key sheet with a straightforward design,
LC with backlight (20 digits × 4 lines).
Functions
- Checking and editing step data and parameters
- Operation of actuator
(Return to home position, Jog operation, Inching operation, Program execution, Servo ON/OFF, Electromagnetic brake ON/OFF)
- Monitor (I/O, Current position, Position command, Current command, Version display)
- Alarm (History display, Clear history, Interrupt display on occurrence, Alarm reset)
- Settings (Backlight luminance, LCD contrast, Beep tone, Automatic turn off of backlight)
- Enable switch (3 positions) - Protection structure IP54 (excluding cable connectors) - Display language (Japanese/English)
External dimensions: 110mm (W) × 218.3mm (H) × 66.6mm (D) (excluding crests)
Main unit weight: 400g (excluding cables) Cable length: 5m
TLC/THC is supported with Version 1.03 or later.
TNU is supported with Version 1.10 or later.
---
PC setup tool D-STEP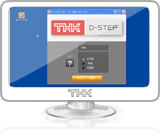 Operations and settings of TLC and THC are possible using a PC.
Equipped with functions useful for maintenance, such as backing up data or logging operating states.
(Supported OS: Windows XP/Windows Vista/Windows 7)