Download
Features
1.Less Wiring Required
Connecting to a PLC through a fieldbus network requires less wiring than an I/O cable connection.
In addition, the network unit and each driver controller can be connected with a single dedicated cable.
2.Up to 16 Axes Can Be Connected
Up to 16 axes of mixed THK driver controllers (TLC, and THC) can be connected using one TNU and TJU (branch unit) in combination.
Digital Operator TDO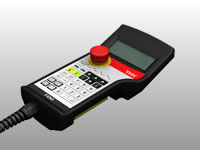 Features
Simple, quick operations and settings of TLC and THC are possible without using a PC.
Simple Operation
Key sheet with a straightforward design,
LC with backlight (20 digits × 4 lines).
Functions
- Checking and editing step data and parameters
- Operation of actuator
(Return to home position, Jog operation, Inching operation, Program execution, Servo ON/OFF, Electromagnetic brake ON/OFF)
- Monitor (I/O, Current position, Position command, Current command, Version display)
- Alarm (History display, Clear history, Interrupt display on occurrence, Alarm reset)
- Settings (Backlight luminance, LCD contrast, Beep tone, Automatic turn off of backlight)
- Enable switch (3 positions) - Protection structure IP54 (excluding cable connectors) - Display language (Japanese/English)
External dimensions: 110mm (W) × 218.3mm (H) × 66.6mm (D) (excluding crests)
Main unit weight: 400g (excluding cables) Cable length: 5m
TLC/THC is supported with Version 1.03 or later.
TNU is supported with Version 1.10 or later.
---
PC setup tool D-STEP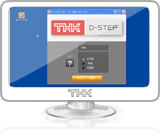 Operations and settings of TLC and THC are possible using a PC.
Equipped with functions useful for maintenance, such as backing up data or logging operating states.
(Supported OS: Windows XP/Windows Vista/Windows 7)