Restoration of THK Production Division facilities
April 11, 2011
 We offer our condolences to the victims of the Tohoku Pacific Earthquake. We pray for the safety of all concerned and for a rapid recovery.
 Restoration work has been underway on production facilities at our Yamagata Plant, Kofu Plant, and THK Intechs Plant, which were affected by the earthquake. As of April 1 production facilities at these plants have been fully restored. Production operations will be carried out at the Yamagata Plants in accordance with the availability of electric power. THK continues to devote all possible efforts to providing products to its customers.
No earthquake-related injuries have occurred at any THK production facility.
| Facility | Operational status | Transport routes | Remarks |
| --- | --- | --- | --- |
| Yamaguchi Plant | Normal operations | Normal | |
| Yamagata Plant | Operations have been possible thanks to the regular electric power supply and the use of THK's own generators. | Normal | |
| Kofu Plant | Normal operations | Normal | |
| Gifu Plant | Normal operations | Normal | |
| Mie Plant | Normal operations | Normal | |
| THK Niigata | Normal operations | Normal | |
| THK Intechs Mishima Plant | Normal operations | Normal | |
| THK Intechs Sendai Plant | Normal operations | Norma | |
| THK Rhythm | Normal operations | Normal | |
| THK Rhythm Kyushu | Normal operations | Normal | |
Updated April 11, 2011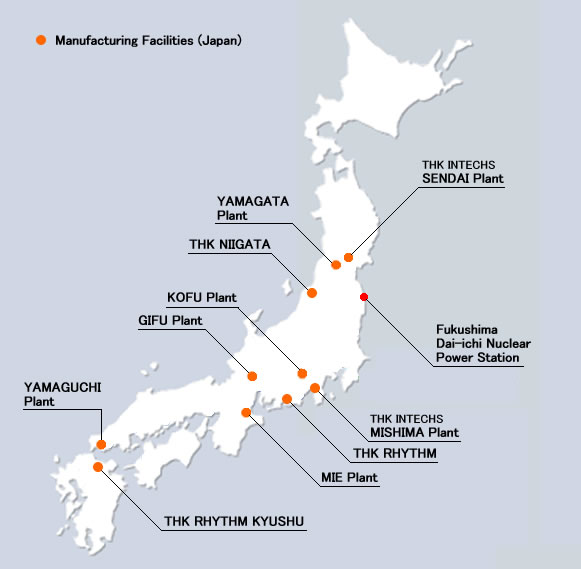 ---