Cross-Roller Guide
The Precision Linear Pack is a superbly thin and lightweight recirculating ball linear guide. The main body is manufactured from precision formed plate which is heat treated and ground to provide a basis of this cost effective highly accurate guide.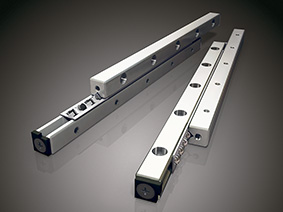 The Cross-Roller Guide is a limited stroke non-recirculating linear guide assembly that can be equiped with rolling elements. This provides high rigidity and is particularly suitable where simple movement is required.
There is also a version of this guide that uses ball rolling elements.

---
Product lineup
Cross-Roller Guide
Model VR
The roller cage model VR has a unique roller retaining mechanism to achieve a large effective contact length of the rollers and a short roller pitch interval. Therefore making it a high rigid type.
Details / Product lineup
Ball Guide
Model VB
The ball cage model VB retains the precision steel balls with a short pitch interval, so providing low friction and matched with high accuracy.