LM Guide Actuator
The LM Guide Actuator is a highly rigid, highly accurate, and compact actuator that integrates an LM Guide and ball screw.
Using the LM Guide Actuator can reduce the number of parts and design time.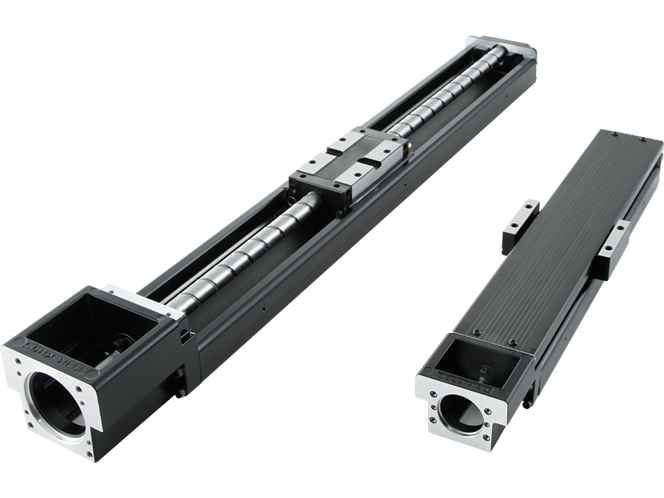 Features
Structure and Features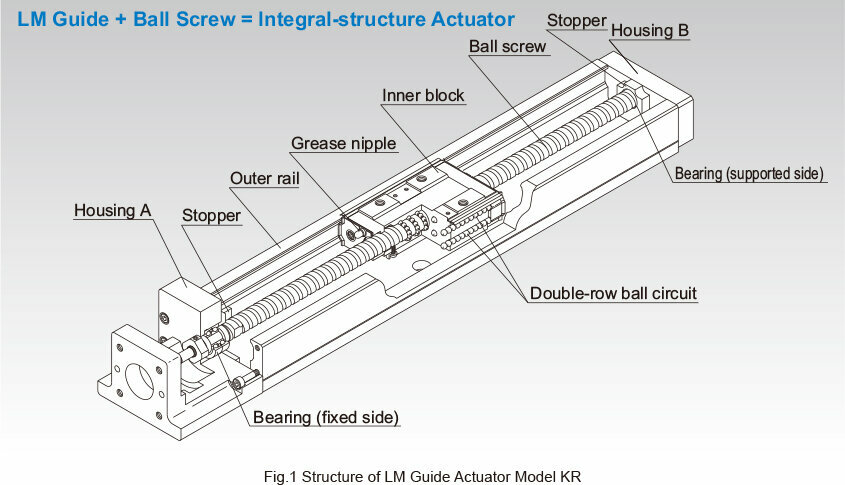 Because of its integral-structure inner block consisting of a highly rigid outer rail with a U-shaped cross section, LM Guide units on both side faces and a Ball Screw unit in the center, the LM Guide Actuator model SKR/KR achieves a highly rigid and highly accurate actuator in a minimal space.
In addition, since the housings A and B also serve as support units and the inner block as a table, this model allows significant reduction of man-hours required for design and assembly, thus contributing to total cost cutting.
By using ball cages in the LM Guide unit and the Ball Screw unit, model SKR achieves higher speed operation, lower noise, longer-term maintenance-free operation, etc. than the previous model KR (a ball cage is used only for the LM Guide unit of models SKR20 and SKR26 and their Ball Screw units are fitted with QZ Lubricator).
4-way Equal Load
Each row of balls is arranged at a contact angle of 45° so that the rated load on the inner block is uniform under loads applied to the inner block in the four directions (radial, reverse radial and lateral directions). As a result, model KR can be used in any mounting orientation.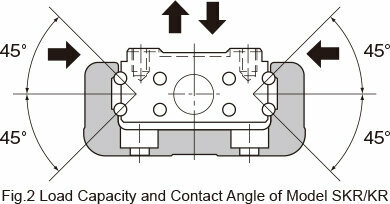 High Accuracy
Since the linear guide section consists of 4 rows of circular-arc grooves that enable balls to smoothly move even under a preload, a highly rigid guide with no clearance is achieved. Addi -tionally, variation in frictional resistance caused by load fluctuation is minimized, allowing the system to follow highly accurate feed.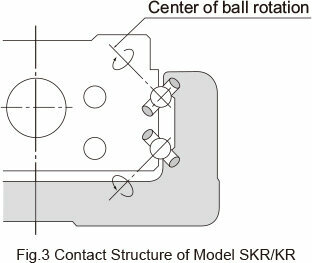 High Rigidity
Use of an outer rail with a U-shaped cross section increases the rigidity against a moment and torsion.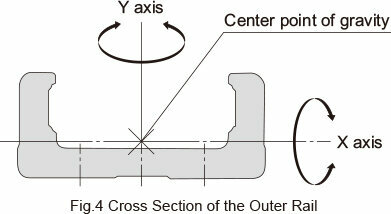 | Model No. | IX[mm4] | IY[mm4] | Mass[kg/m] |
| --- | --- | --- | --- |
| SKR20 | 6.0 × 103 | 6.14 × 104 | 2.6 |
| SKR26 | 1.66 × 104 | 1.48 × 105 | 3.9 |
| SKR33 | 5.35 × 104 | 3.52 × 105 | 6.1 |
| SKR46 | 2.05 × 105 | 1.45 × 106 | 12.6 |
| SKR55 | 2.07 × 105 | 2.09 × 106 | 13.2 |
| SKR65 | 4.51 × 105 | 5.73 × 106 | 22.1 |
| KR15 | 9.08 × 102 | 1.42 × 104 | 1.04 |
| KR20 | 6.1 × 103 | 6.2 × 104 | 2.6 |
| KR26 | 1.7 × 104 | 1.5 × 105 | 3.9 |
| KR30H | 2.7 × 104 | 2.8 × 105 | 5.0 |
| KR33 | 6.2 × 104 | 3.8 × 105 | 6.6 |
| KR45H | 8.4 × 104 | 8.9 × 105 | 9.0 |
| KR46 | 2.4 × 105 | 1.5 × 106 | 12.6 |
| KR55 | 2.2 × 105 | 2.3 × 106 | 15.0 |
| KR65 | 4.6 × 105 | 5.9 × 106 | 23.1 |
lX =geometrical moment of inertia around X axis
lY =geometrical moment of inertia around Y axis