July 15, 2021

Cross-Roller Guide with Cage Alignment System VRG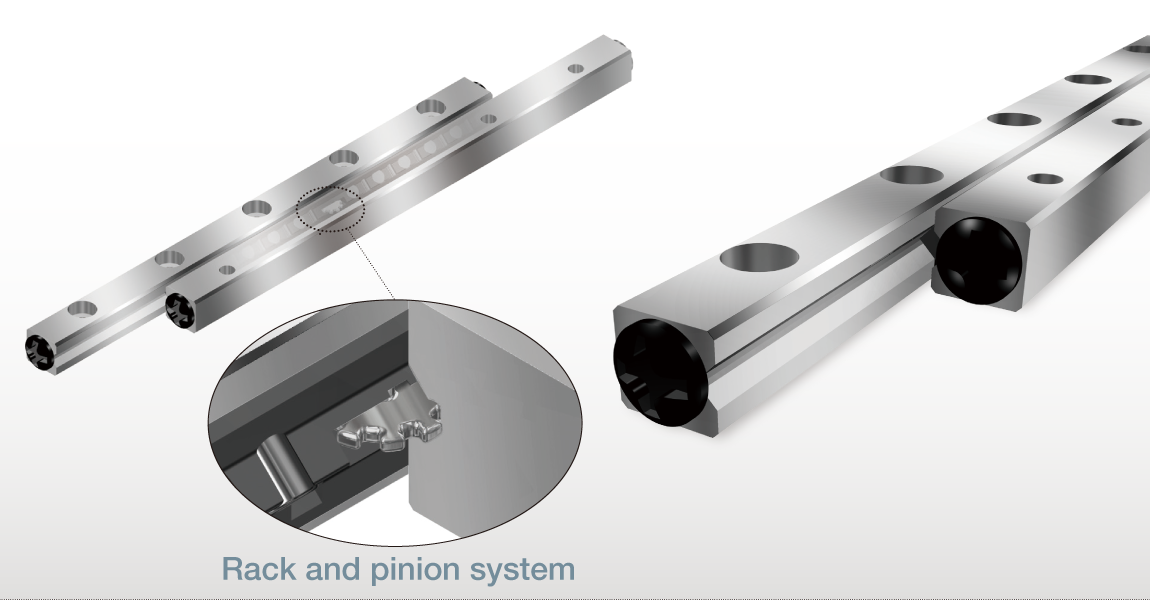 THK has begun accepting orders for the VRG, a new cross-roller guide that is based on conventional models and adopts a mechanism to prevent cage misalignment.
The Cross-Roller Guide VRG is a linear motion guide that provides light and highly accurate sliding motion by moving cages, which contain precise rollers arranged orthogonally, along 90° V-shaped raceways in a finite stroke. The light, smooth motion of this product has been enhanced with stability provided by a proprietary rack and pinion mechanism that prevents cage misalignment.
Finite stroke type cross-roller guide systems that do not recirculate rolling elements may experience cage misalignment caused by vibrations, inertia, or impacts that occur when the device actuates. Cage misalignment significantly alters the sliding resistance and stroke amount, which may cause machine failure. The VRG features a cage alignment system that prevents this type of cage misalignment that often occurs with cross-roller guides. At the same time, it offers smooth and stable motion for continuous operations, which helps improve the service life of the device.
The VRG is optimally suited for use in devices such as semiconductor manufacturing equipment, electronic component manufacturing equipment, and optical measuring equipment. This product is also expected to be adopted for wider uses beyond even traditional office automation and peripheral devices.
This is a new product that was developed in response to the many needs customers have shared with THK. The company will continue to develop and propose products that meet the needs of a variety of fields.

Features
Rack and pinion cage alignment system
THK's proprietary rack and pinion mechanism prevents cage misalignment and provides stable motion.
Light, smooth motion
This product features cages, which contain precise rollers arranged orthogonally, moving along 90° V-shaped raceways in a finite stroke (with no recirculation of the rolling elements). This provides light and smooth motion, which makes the product optimal for situations where minute feeding is required.
High rigidity and long service life
Installing two parallel VRG units allows the system to bear loads from four directions. A clearance adjustment bolt is used to apply a preload to the rollers during installation, which provides this linear motion guide with high rigidity during use. In addition, the roller pockets (oil pockets) formed into the cages make contact with the surface of the rollers, providing excellent lubricant retention and limiting friction between metal parts, which enables a long service life.
Interchangeable mounting dimensions with existing VR products
The mounting dimensions are the same as those of the current Cross-Roller Guide VR.


THK LM SYSTEM Pte. Ltd.
38 Kaki Bukit Place LM Techno Building Singapore 416216
TEL:+65-6884-5500 / Fax:+65-6884-5550
e-Mail : sales@thksg.com