THK on Trade Fair "Railway Interiors Expo 2017" in Prague
November 13, 2017
THK introduces a prototype of "Smart Sensing Chair" on "Railway Interiors Expo 2017" (Prague, 14-15 November 2017). This chair is equipped by a smart sensors system that analyses a health condition of the sitting person e.g. respiratory rates, heart rates, stress level, and measure surrounding air parameters. The information can be then displayed on a monitor or on the personal cloud.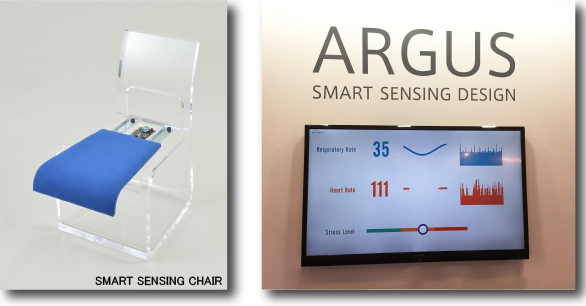 Features
Design
Simple design of transparent acrylic with a blue seat.
Seat equipped with sensors to measure body movement and take readings of the surrounding environment.
THK's Model FBL56H+305LS slide rails are built into the seat, enabling sensor installation.
Smart Sensing Chair System
A body motion sensor installed in the chair measures one's heart rate, respiratory rate, and stress levels
Data can be saved and reviewed with a cloud environment.
Contact
Global Marketing Division
2-12-10 Shibaura, Minato-ku, Tokyo 108-8506 Japan
E-mail:web@thk.co.jp