In public transportation
The HSST (High-Speed Surface Transport) system impressed many visitors at Tsukuba Expo '85, the science and technology exposition where it was first exhibited after development began in 1974. Following this, the HSST system officially opened for business at the Yokohama Exotic Showcase (YES) in 1989. THK's products are an essential part of next-generation transportation systems such as this.
Linimo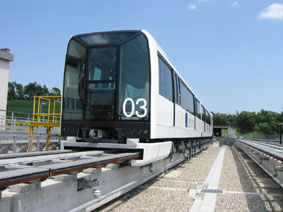 To turn sharper corners at higher speeds.
The linear motor car or "Linimo" attracted much attention at Expo 2005 Aichi, Japan. Attractive force generated by the current of a magnet attached to the train body is used to lift the train from the rails, which eliminates rail/wheel friction and allows the train to move at higher speeds.
If the lifting and driving modules were completely fixed to the carriages, the train would not be able to turn corners as the rear of each carriage would resist the front's sideways motion. To solve this problem, the five modules mounted on each carriage of the train have been designed to slide to the right or left when the train turns, allowing the train to turn tight corners at fast speeds. Our LM Guides are used in the sliding mechanism of those modules, making their movement very smooth and quiet.
---
Products used

LM Guides, the first devices in the world to allow linear motion with rolling contact, are THK's primary products.
---