New Sizes for The Series of Compact High-speed Ball Screws SDAN-V
47 threaded shaft diameters and lead combinations available
With the expansion of the SDAN-V series, THK now offers a total of 47 shaft diameters and lead combinations with diameters ranging from 31 - 63 mm and leads ranging from 5 - 40 mm for its high-speed compact ball screws.
The ball screw nuts of the SDAN-V series are approx. 30% more compact than previous models and their dimensions correspond to ISO 3408. Designed with optimized ball return, the ball screw nut enables speeds of up to 5,000 rpm which corresponds to a DN value of 160,000. In addition, the torque remains stable even in continuous high-speed operation. This type is also characterized by its smooth running and low-maintenance operation, which is achieved by the balls with spacers (caged technology).
The double nut design guarantees high axial rigidity. For this purpose, the required preload is applied by means of a spacer ring between the nuts and as a result the nuts are free of axial play.
The SDAN-V series is particularly suitable for precision machines and for compact, high-performance machine tools.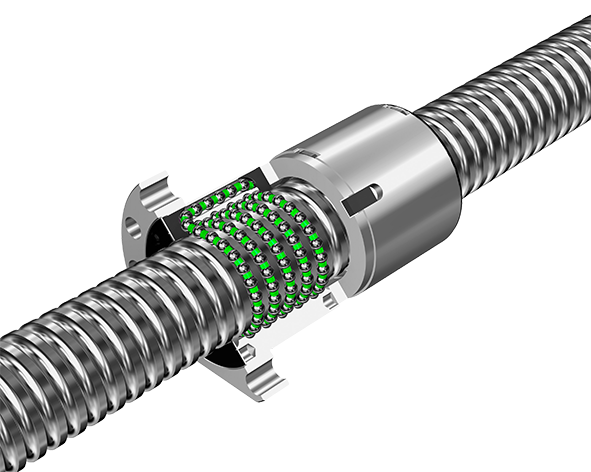 Illustration 1 Ball screw SDAN-V with double nut and balls with spacers