About THK
LM Guide pioneers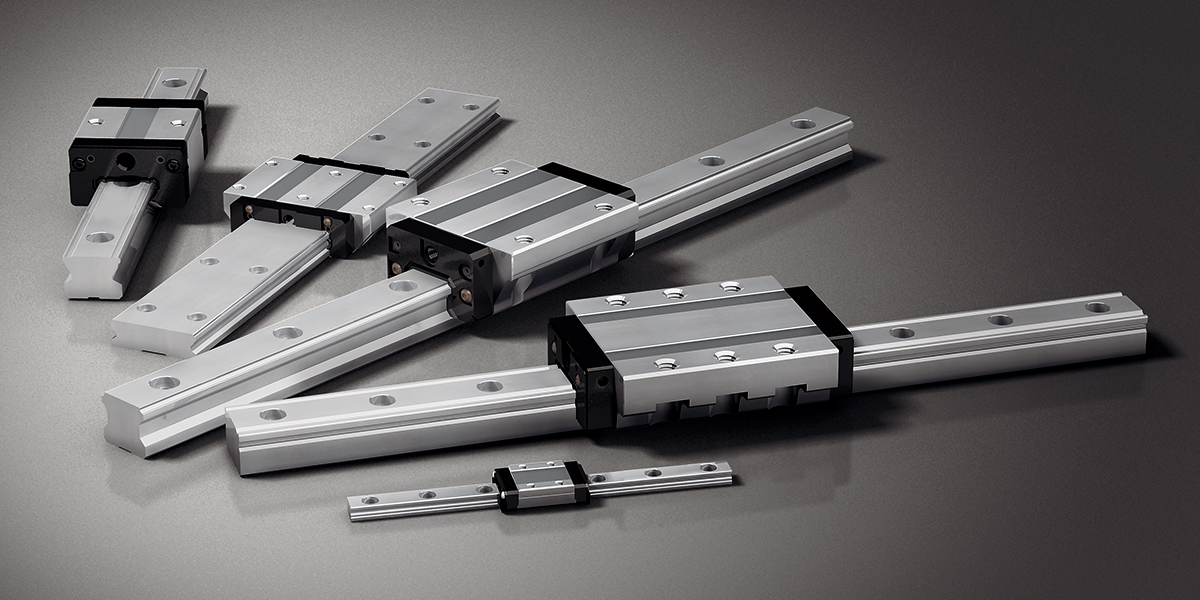 A machine's moving parts can be classified as rolling, linear, or a combination of both. With the development of rolling bearings about 110 years ago, rolling contact became the standard method for accomplishing rolling motion. This brought about a great technological revolution. Rolling contact not only saved motion energy, but also kept frictional resistance to a minimum and thus greatly improved the performance of machinery. However, even though a similar development in the field of linear motion would have been ten times as valuable, linear motion through rolling contact was a long time in coming.
THK solved the problem, previously considered too difficult, of linear motion with rolling contact by applying its unique technological capabilities, and in 1972, it became the first company in the world to develop and commercialize the Linear Motion (LM) Guide. Our linear motion system enabled rapid improvements in the accuracy, speed and labor-saving potential of advanced mechatronic instruments.
With THK's LM Guides, machine tools and industrial robots become capable of ultra-precise operations, and semiconductor-manufacturing devices can operate in submicron units. More recently, the system has been applied in liquid crystal manufacturing lines, railway carriages, assistive vehicles, medical equipment, skyscrapers and residences, and amusement devices. The use of LM Guides has truly expanded beyond all prior boundaries.

What Is a Linear Guide(Linear Motion Guide)?
This is a helpful overview for people unfamiliar with linear guides (linear motion guides) and those who are considering making a selection or purchase.
Company Profile Movie
You can find THK here!
"Where are THK's products used, anyway?"
"All around you!"
This is our answer. In the manufacturing field, in research helping to building the future, and in everyday life -- LM Guides, Ball Splines, Ball Screws, Cross-Roller Rings and other THK products may not be easily visible, but they play an highly important role.
Supporting Society
With our products, we contribute to the improvement of infrastructure and more efficient expansion of industry.
Using our unique technologies to help support and create new value in infrastructure areas such as information technology (IT), transportation, civil engineering and construction, and even in people's dietary lives and urban functions is part of THK's business.
Changing the Way We Create
We supply products that support the latest industry technologies.
To produce state-of-the-art products all over the world, it is necessary to use high-quality equipment in the manufacturing lines. One of THK's tasks is to meet this need in manufacturing and continue to raise our product quality to even higher levels.
Protecting Life
Reliable technologies that protect people's lives in fields from medicine to security
There are many ways that THK can help protect lives and property. Our products can work like the eyes of doctors, the hands and feet of care staff, even the very foundations of your house. Developing technologies for such needs is one of THK's tasks.
Enriching Life
More smiling, more convenience.
THK products are even found in places you'd never expect.
If you look closely at your daily life, you may discover that our products are helping you in places and ways you'd never imagined. Using technology to make your life more convenient and enjoyable is another of THK's missions.
Walking with Mother Earth
As a corporate member of planet Earth, THK considers good environmental practices an important business resource.
To conduct business activities on the world stage, we consider that our management, technological development and manufacturing must be informed by awareness of the earth, nature and the environment. We believe that THK must play an important role in the development of environmentally friendly products and activities that will protect the future of the environment.