THK presented the prototype of an electric car for the first time at the Japan Mobility Show 2023
A fusion of THK's advanced technology and Shiro Nakamura's design
THK exhibited for the first time at the Japan Mobility Show 2023 in Tokyo and showed the prototype of its fully functional electric car LSR-05 to the international audience as a world premiere.
This ready-to-drive vehicle features a wealth of state-of-the-art e-car technologies, all developed specifically by THK. The design was masterfully implemented by SN DESIGN PLATFORM. Both companies worked together to bring to life a new vision for future mobility.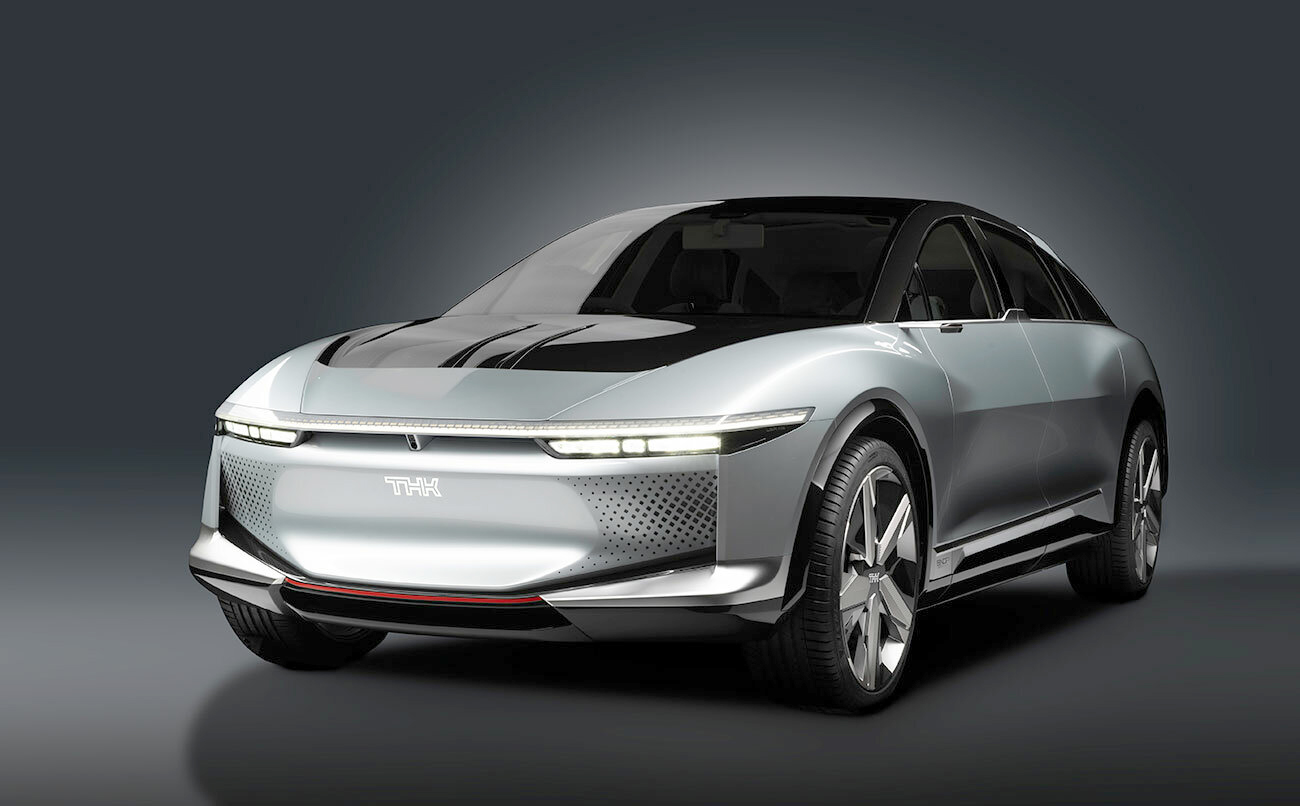 Illu 1 The LSR-05 electric car is a four-seat crossover coupe with a dynamic and elegant exterior (external dimensions: length 4995 mm, width 1965 mm and height: 1530 mm)
Akihiro Teramachi, CEO of THK, explained to the audience why they developed the vehicle: "The LSR-05 represents THK's perspective on the future of mobility. The vehicle was designed to validate and demonstrate how our advanced technology can help increase the value of cars."
The LSR-05, a four-seat crossover coupe, was created as the epitome of luxury, sporty design and revolutionary technology. The name LSR-05 embodies the essence of luxury, sport and revolution. In addition, this name is a tribute to THK's significant achievement in 1972, when the company introduced the world's first LSR linear guide for precise linear movements in machine tools. In addition, the number 05 represents an important milestone, marking THK's 50th anniversary and the fifth generation of the vehicle since its introduction.
The platform integrates two of THK's original 93 kW (800 V) variable-flux in-wheel electric motors in the rear, complemented by a 220 kW (800 V) electric motor in the front, forming part of a four-wheel steering system. This, coupled with features such as active suspension, MR fluid active dampers, and electric brakes, delivers exceptional ride comfort and handling stability.
Shiro Nakamura, President of SNDP and Design Director, describes this car as a combination of luxury and a sporty exterior with a modern and comfortable interior based on THK's advanced technologies.
In addition, the cabin is equipped with a hidden seat adjustment system that ensures a flat floor and creates a luxurious and comfortable interior. The LSR-05 also features a contactless charging system that perfectly embodies THK's forward-looking vision for future mobility.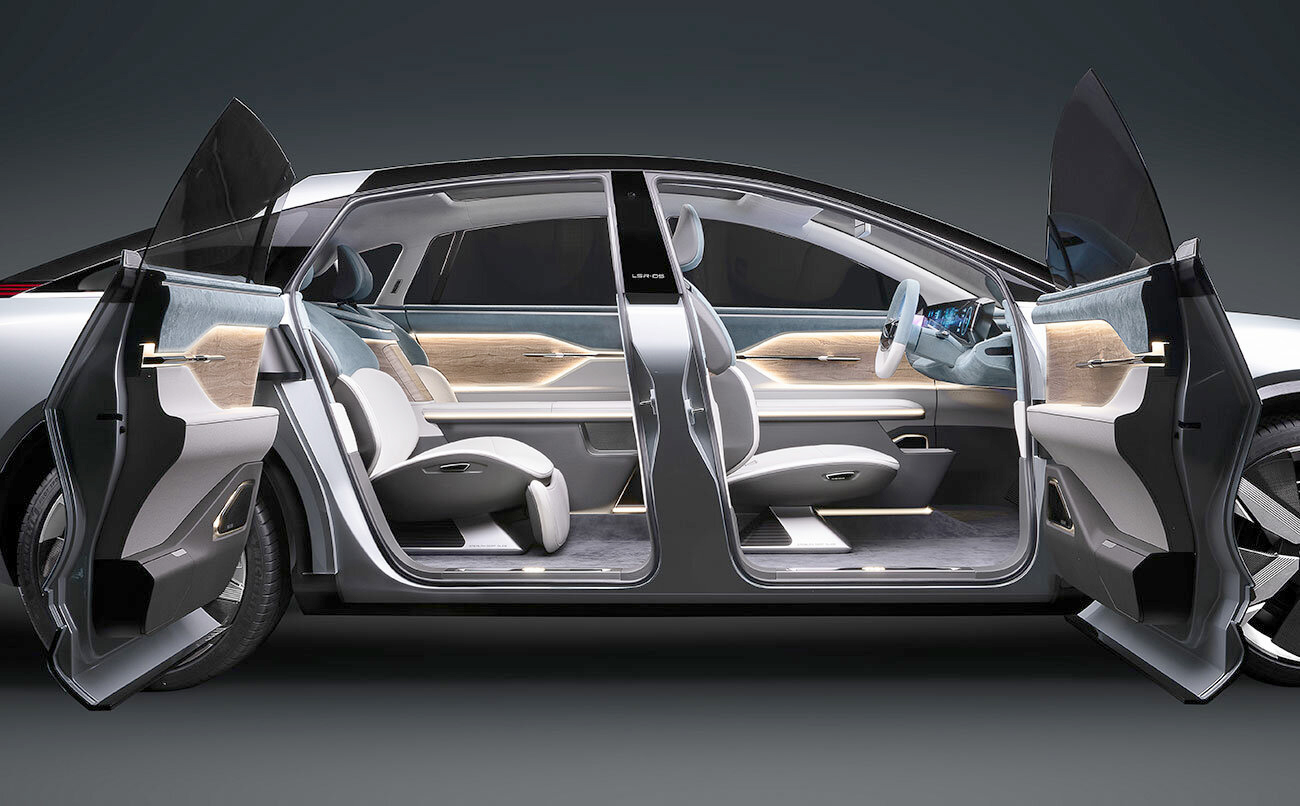 Illu 2 Luxurious interior with an emphasis on modernity and comfort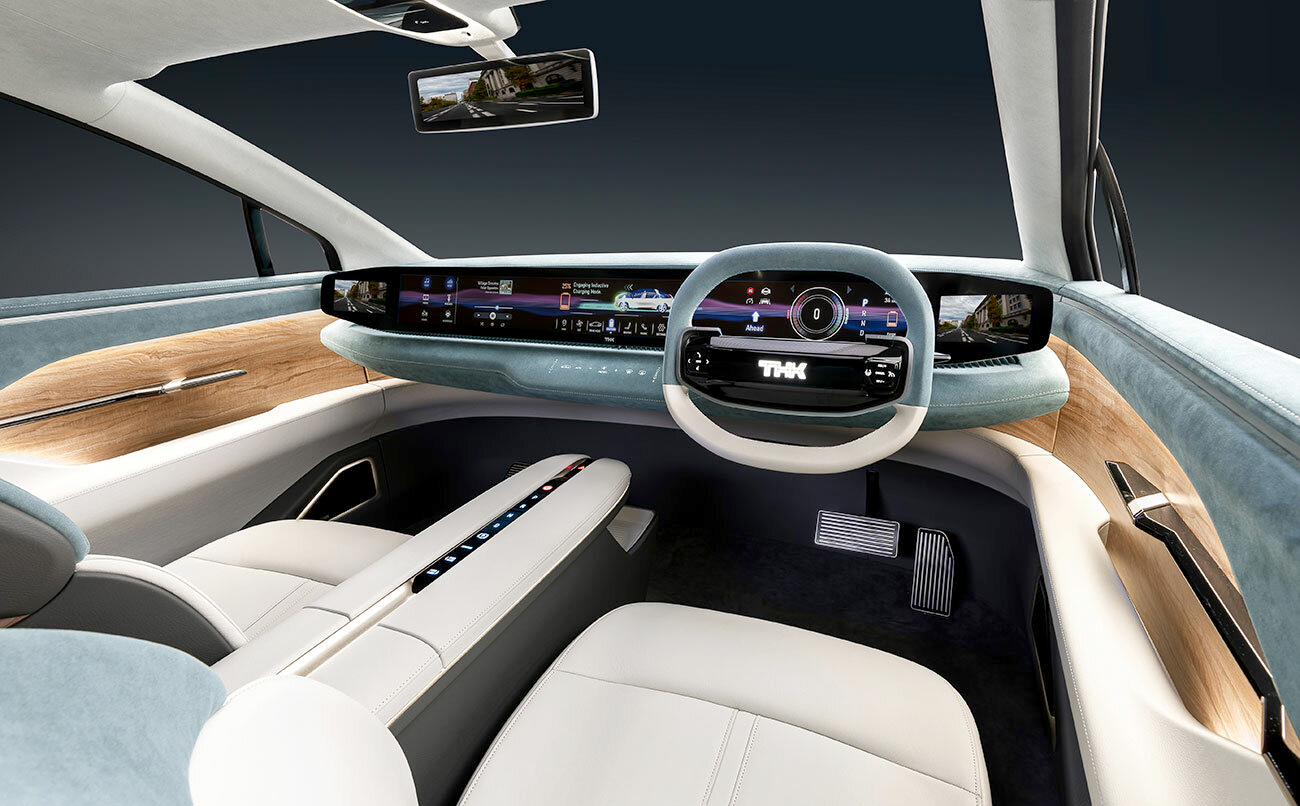 Illu 3 Clear and uncluttered design of the instrument panel with a large display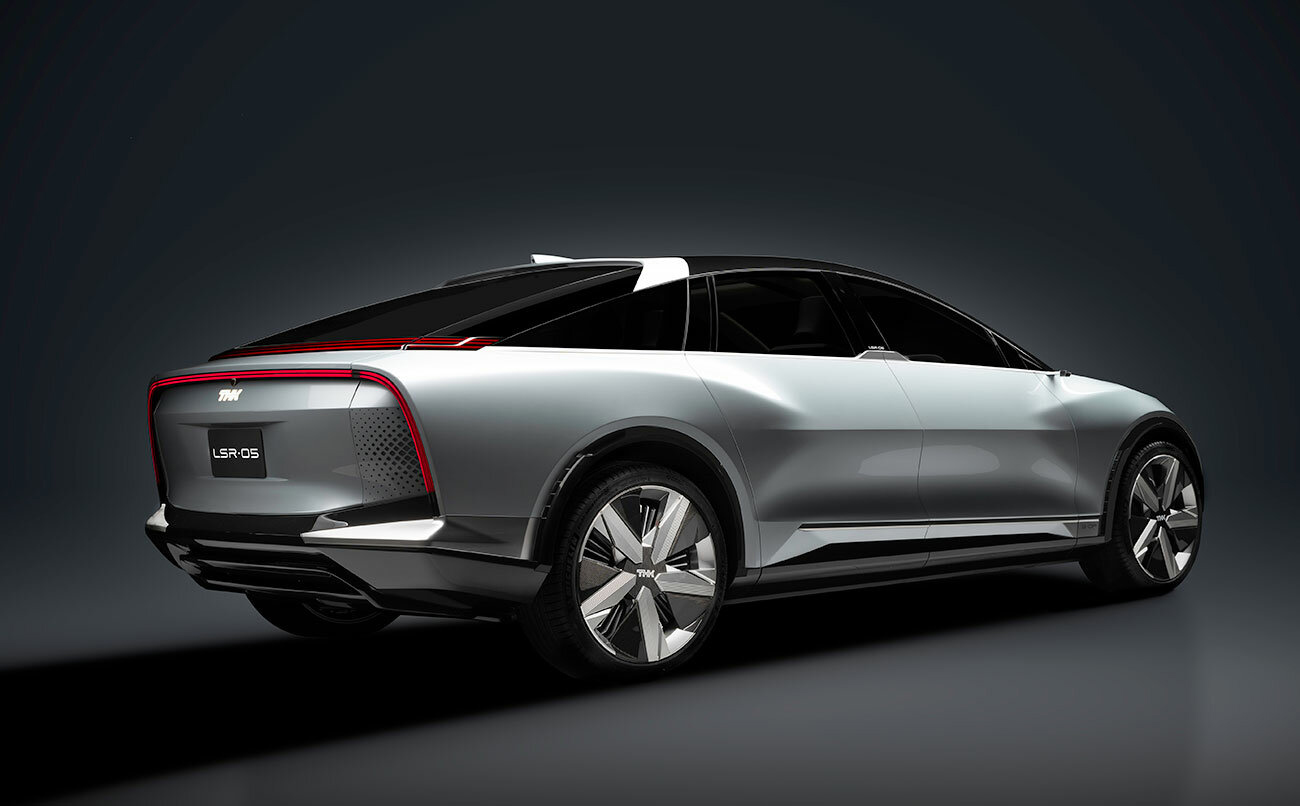 Illu 4 Simple and attractive design around the back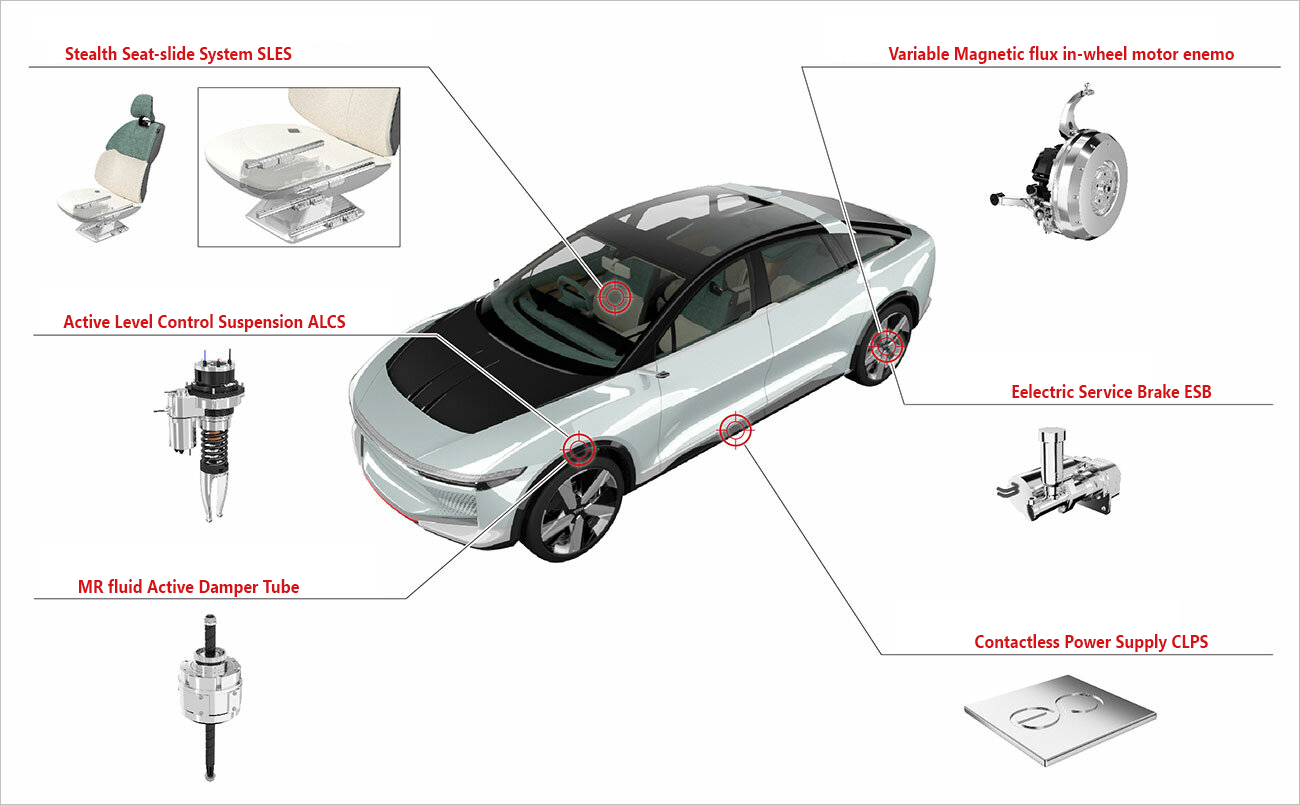 Illu 5 Many THK-original advanced technologies for EVs are in the LSR-05
Stealth Seat-Slide System SLES
Linear guides are attached to the inside of the seat and to the bottom of the seat base. Using a special actuator, a large stroke can be achieved even in a compact installation space.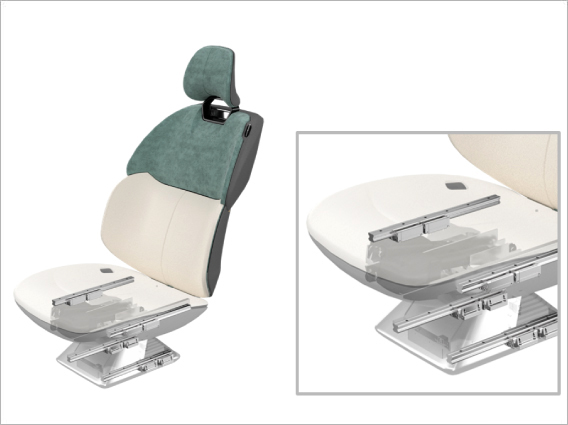 Illu 6 Stealth Seat-Slide System SLES
Variable Magnetic Flux In-Wheel Motor enemo
This wheel hub motor increases reliability as it drives the left and right wheels independently. Additionally, both high-torque and high-speed rotations are possible thanks to a variable magnetic flux system that utilizes a highly rigid ball screw/spline. Furthermore, installing the THK R guide in the rear wheel steering enables all-wheel steering, which has a large steering angle and contributes to the ideal driving line.

Illu 7 Variable Magnetic Flux In-Wheel Motor enemo
Active Level Control Suspension ALCS
This system enables vehicle height adjustments and stability control according to the roughness of the road by operating a THK ball screw/spline. It lowers the height of the vehicle when driving at high speeds to reduce air resistance, and it improves power supply efficiency when using contactless floor charging. It can also raise the height of the vehicle when off-roading or when driving over uneven surfaces.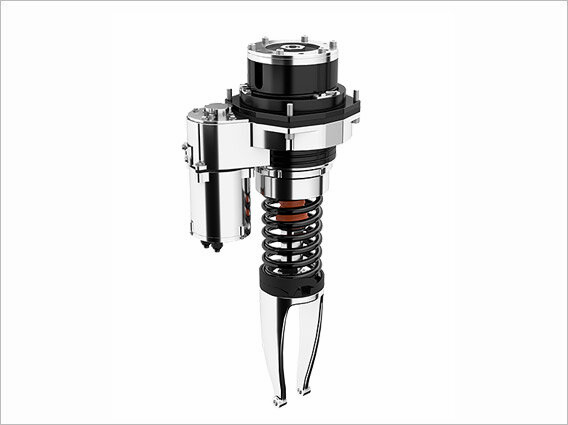 Illu 8 Active Level Control Suspension ALCS
MR Fluid Active Damper Tube MRDT
THK offers seismic isolation technology with a range of rotary dampers that use ball screws and a viscous element that absorbs and dampens shock. By combining this product technology with a magnetorheological fluid, the damping performance of the suspension can be electronically controlled to absorb vibrations, and it can be used in conjunction with ALCS vehicle height control.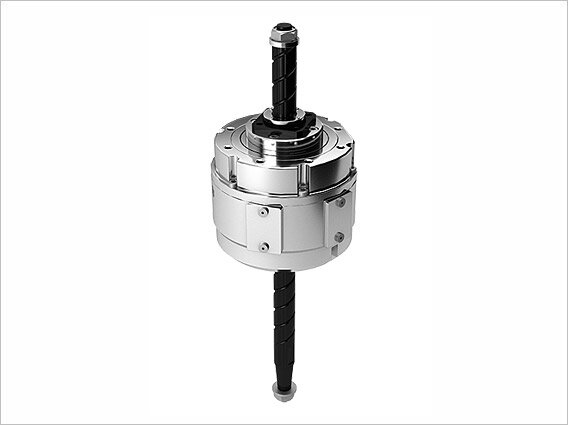 Illu 9 MR Fluid Active Damper Tube MRDT
Contactless Power Supply CLPS
Through the DWPT (dynamic wireless power transfer) method, a power transmitter is embedded in the ground, and a power receiver is installed in the vehicle. Lowering the height of the vehicle with the ALCS increases charging efficiency, so power receivers are expected to be smaller and more lightweight. With this method, driving distances can be increased even with shortened charging times and fewer batteries in vehicles.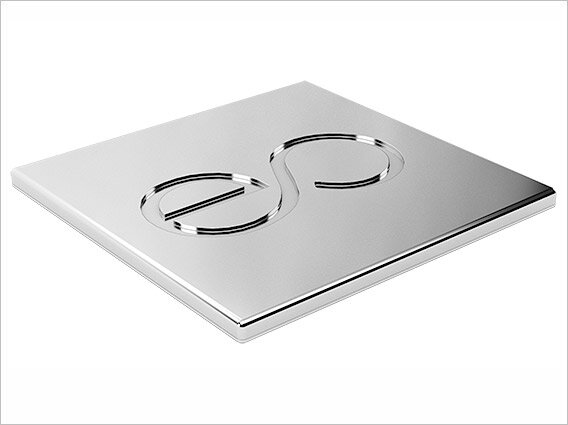 Illu 10 Contactless Power Supply CLPS
Electric Service Brake ESB
This system controls four brakes independently through bi wiring (electric control). It contributes to significant weight reduction and a compact size by utilizing a highly rigid THK ball screw inside the actuator.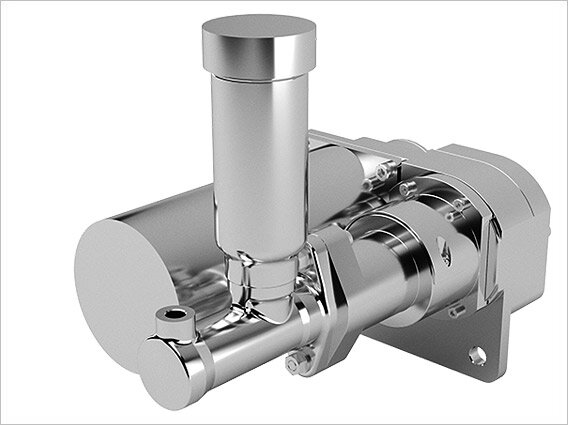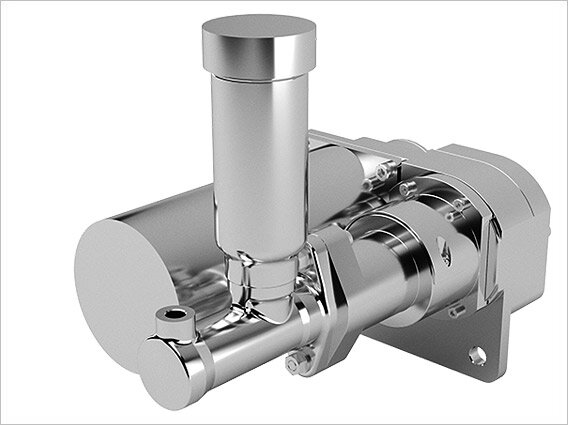 Illu 11 Electric Service Brake ESB