PCT/PC | Electric Cylinder Actuator
Download
Features(PCT)
1.Press actuator
This electric cylinder actuator is offers superior axial load rigidity and thus available for use in a small press fitting and caulking machine.
2.Motorized
A motorized mechanism is employed instead of an air cylinder, reducing process time, increasing accuracy, and providing multi-point positioning, for improved productivity.
3.Many possible variations
A combination of ball screw lead and motor capacity allows you to select products suited to your needs from five types of variations with rated thrusts ranging from about 100 to 800N.

4.Flexible device design
PCT can support any installation direction through the use of a flange or T slot on the main unit. Motor installation is also possible by direct coupling or return.
(When a radial load and moment load are applied to the rod, a guide must be installed separately.)

Download
Features(PC)
1.Compact structure
The new integrated structure, incorporating a precision ball screw nut and ball spline shaft, significantly reduces the product length, making the unit much more compact.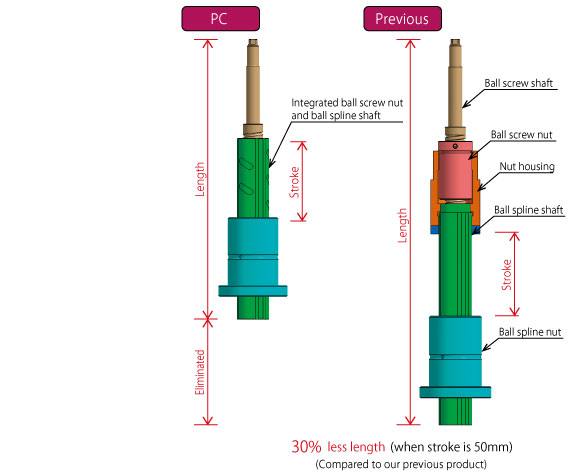 2.Designed to withstand compressive loads
The bearing arrangement provides high resistance against compressive loads.
3.High load capacity
The ball screw shaft diameter and loaded circuitry have been maximized to enable high load capacity.
4.High rigidity
The Ball Spline Model LF enables smooth movement without clearance, providing a guide with high rigidity.
5.High feed precision
The feed mechanism employs a precision ball screw, providing superior feed precision.